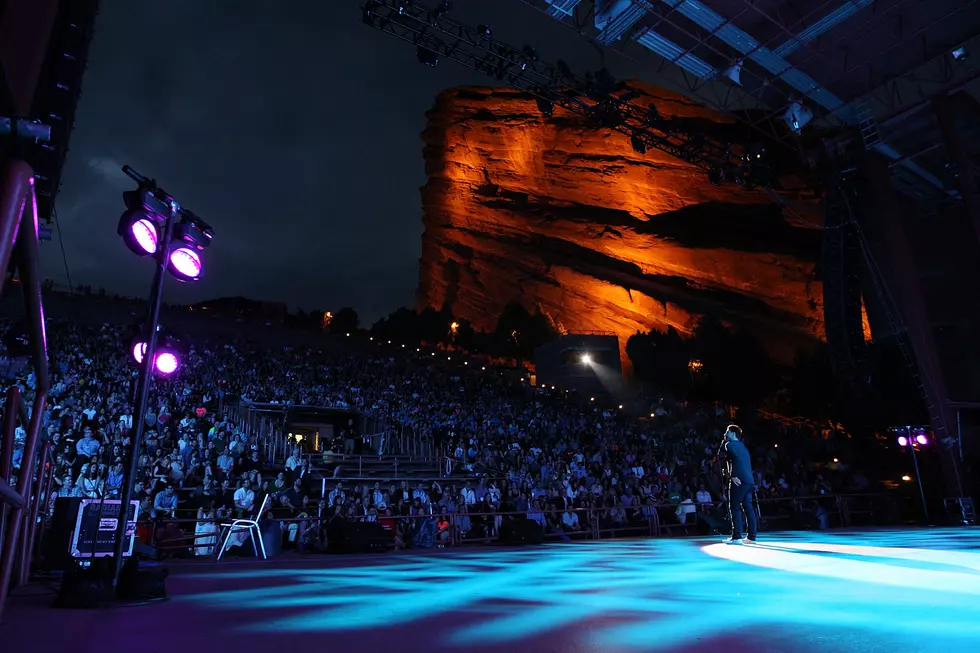 10 Colorado Venues We Can't Wait to See Shows at Again
Jason Bahr/Getty Images
Even though it just snowed again yesterday, I'm still looking forward to the arrival of March and springtime. What I'm banking on is that once we hit 'official' springtime, we can start looking forward to the general public getting their COVID vaccines during the summer and finally allowing getting back into our beloved live events. When that day comes, here's some of the music venues we're most looking forward to visiting again (in no particular order).
18300 W. Alameda Parkway Morrison, CO 80465
Ah, Red Rocks – How we've missed you. It's no surprise that this iconic venue is the first on our list that we're itching return to, given that it's a mainstay in the Colorado consciousness with its striking natural features and great acoustics. Currently, some of the shows coming up at Red Rocks includes Brantley Gilbert in May, the Barenaked Ladies in June and The Avett Brothers in July.              
 13714 Poudre Canyon Highway Bellvue, CO 80512
 

 

 

View this post on Instagram

 
While I've never personally been to the Mish (I know, I know, what am I even doing with my life as a NoCo resident), this is definitely one of the first venues I'd like to check out once restrictions are lifted. Just like Red Rocks, the Mishawaka Theatre is nestled in nature, offers mountain views, music and dining. Plus, when we're not all slogging through plague and economic hardships, they also do a lot of beneficial work with community artists with their grant and sponsorship programs. Some acts coming to the Mishawaka include Dave Watts & Friends, Head for the Hills and Trout Steak Revival.
1135 13th St. Boulder, CO 80302
Originally built in 1926 as the Rialto Theater, the Fox Theater down in Boulder has changed hands many times and worn multiple different hats, from a movie theater to a vaudeville theater to a music hall. After bouncing back from a fire in 1960, the Fox is now a gem just off of Boulder's Pearl Street Mall that tends to host local CO musicians as openers for larger acts and features an unpretentious intimacy that some feel is hard to come by in Boulder. Some upcoming acts at the theater include Two Feet in May, Yheti in September and The Airborne Toxic Event in October.          
 1510 Clarkson St. Denver, CO 80128
 

 

 

View this post on Instagram

 
A historic and musical treasure of Colorado's capital city, The Fillmore Auditorium has hosted many incredible names, including Lizzo, Snoop Dogg, Jimi Hendrix, The Who and The Grateful Dead, according to Uncover Colorado. Although the theater doesn't have any shows coming up this month, they will be showing Kaytranada in May and 5 Seconds of Summer in June.
132 Laporte Ave. Fort Collins, CO 80524
A relative newcomer to the music scene in Fort Collins, Washington's is another venue I have no excuse for not visiting before COVID hit last year. Needless to say, I've since regretted my lethargy in visiting due to the diverse lineup of artists Washington's brought to Fort Collins. Plus, it's a great community builder that was sponsored by the Bohemian Foundation and "complements other Fort Collins area venues and other music projects," according to Washington's website. Some acts coming to Washington's this spring include Marc Broussard in May, The Mountain Goats in August and The High Kings in October.      
 3317 East Colfax Avenue Denver, CO 80206
 

 

 

View this post on Instagram

 
An iconic theater and gateway to the greener pastures of the larger music scene, according to Uncover Colorado, the Bluebird Theater is over 100 years old and is packed to the brim with an aesthetic charm that always adds some spice to the many bands that grace its stage. A particularly friendly place to new alternative bands, The Bluebird will be hosting shows all through the summer, including RAC in May and Flora Cash and The Hold Steady in June.
4242 Wynkoop St. Denver, CO 80216
Having (relatively recently) undergone a large renovation, the Mission Ballroom was ready to wow us all when the pandemic came along with other plans. Now Colorado's largest indoor venue and home to a fascinating moveable setup, the Mission Ballroom can host flexible capacities and serve not just as a concert hall, but as an event space for award shows, weddings and other events. Some upcoming shows in this exciting space include Dead Can Dance in April, The Disco Biscuits in May and Zed's Dead in July.  
900 Baseline Rd. Boulder, CO 80302
 

 

 

View this post on Instagram

 
I won't lie, when someone says Chautauqua Park, my first thought isn't of the concert hall but of the summer camps hosted at the park when I was a kid. However, that doesn't mean I'm not excited to go back and see some live music in the rustic grandeur of the barn-like auditorium tucked beneath the flatirons, particularly in the summertime. Meanwhile, Chautauqua will be hosting David Crosby & the Sky Trails Band this spring, as well as Keb' Mo' and The Steeldrivers with Wood Belly in the summer.
935 East Colfax Ave. Denver, CO 80218
Honestly, I would be remiss if the Ogden Theater didn't make it onto this list. A Denver Landmark and a National Historic Landmark, the Ogden has hosted several of the greats throughout the years, from Harry Houdini to Prince himself (according to Westword). Along with its reputation as a more selective venue for Colorado artists to strive for, the Ogden is a charming place to see a show and will be hosting Tennis at the end of March, Orville Peck in May and Shallou's Magical Thinking Tour in June.
 500 E Colorado Ave. Telluride, CO 81435
View this post on Instagram
Telluride's Town Park Stage has been a staple of the bluegrass scene for decades, with Planet Bluegrass' Telluride Bluegrass Festival as one of the stage's annual crowning events. The perfect place to allow thousands of 'festivarians,' this venue still emulates the majesty of the Rocky Mountains while still offering a great concert experience. While this year's Telluride festival has not yet released a lineup (though it has been tentatively set for June 17-20, 2021), 2019's 46th Annual Telluride Bluegrass Festival featured powerful names such as Béla Fleck & The Flecktones and the Punch Brothers.
​
NoCo Music Venues Then and Now
More From Power 102.9 NoCo - KARS-FM