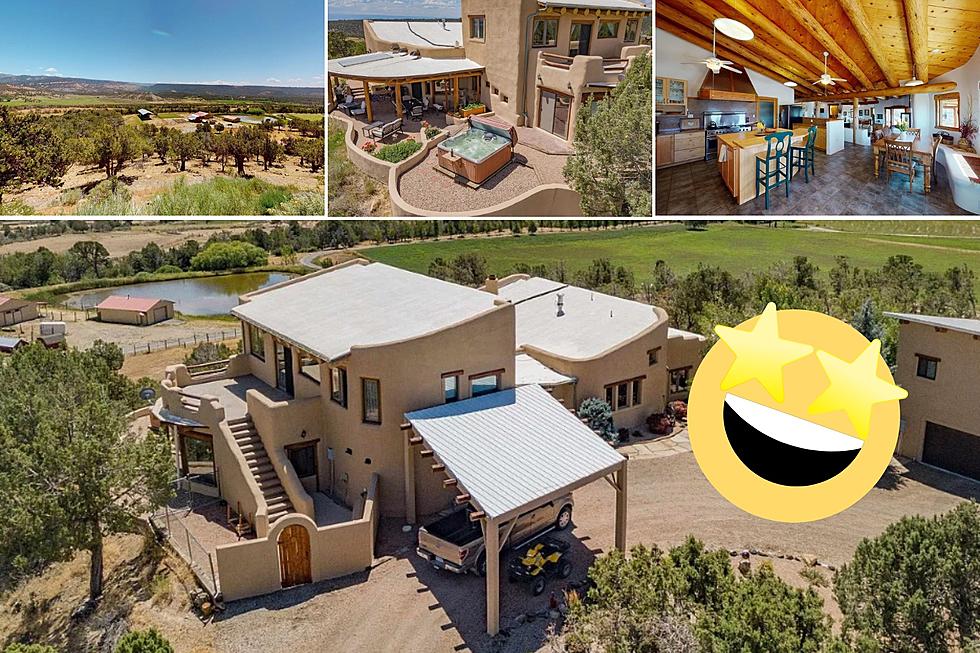 Western Colorado Dream Home Features Amazing House, Incredible Views
Grand Valley Real Estate Services via Zillow.com
When you combine an amazing house with incredible views in western Colorado, you've got a dream home that will capture your heart.
Which Is Better - the House or the Views?
When I saw this piece of real estate on Zillow, I was so excited, I just had to share it with some. I'm not sure which is better - the spectacular views or the house itself.
This dream home is located at 27067 Cactus Park Road, just outside of Cedaredge. With over 4,000 square feet of living space and 15 acres of land, the real estate listing on this property says it best - "Words can't describe everything that this property has to offer."
Everything In This House Seems Large
To start with, let's consider the house itself, a beautiful Adobe home with 5 bedrooms, 3 baths, remodeled bathrooms, and a large chef's kitchen. The high ceilings with huge log beams give this home a comfortable rustic feel with wide-open living.
Multiple Barns and ATV Trails
On the outside, you have three barns, a large garage, a secured dog-run area, and the always essential hot tub. Around the property are ATV trails, and amazing views 2 hours a day.
This home, built in 1998, has undergone extensive remodeling - and you'll see in the photos below how amazing the home looks inside and out. This property is being listed by Grand Mesa Real Estate Services.
Amazing Home For Sale With Great Views In Cedaredge
Scroll through the images below for a close-up look at this western Colorado dream home, just a short drive from all the wonders of the Grand Mesa. You'll see the amazing countryside views and an incredible home, both inside and out.
Tour The Most Expensive House For Sale Right Now in Grand Junction Colorado
Are you in the market for a new home? Well, after a long run, there's a new kid on the block. A house that was the most expensive on the market in Grand Junction, Colorado, finally has a contract. With that, there's a new top dog. Take a quick tour of the most expensive house for sale in Grand Junction as of February 1, 2023.
You'll Love These Pink Houses For Sale Right Now In Colorado
Happy Valentin's Day. Do you love the color pink? Considering this is Colorado and not Indiana, you don't see a tremendous number of pink houses. They are, however out there. Here's a quick look at a number of pink houses (in various shades) for sale as of Valentine's Day, February 14, 2023.
More From Power 102.9 NoCo - KARS-FM