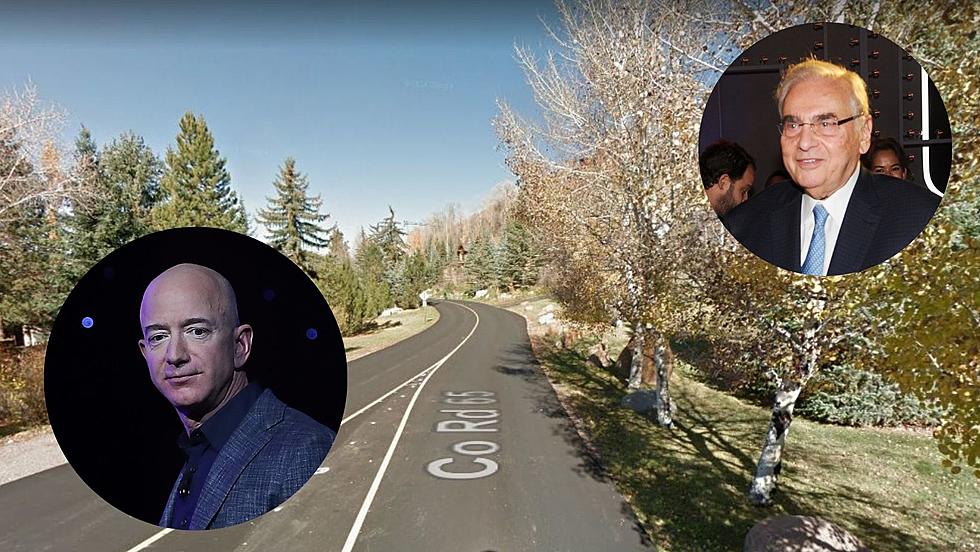 Aspen, Colorado's 'Billionaire Mountain' Home to Notable Names
Getty Images, Google Maps
Aspen has always been one of Colorado's wealthiest ski towns, right up there with Vail and Telluride, and is frequently a stomping ground for celebrity guests. However, while resorts around the town may temporarily offer a home to stars like Katy Perry and the Kardashians, there's an entire mountain where the 1% live, and it's aptly named "Billionaire Mountain."
No beating around the bush there.
Aspen commonly has homes ranging in the high millions, but Billionaire Mountain (its real name is Red Mountain) features properties more in the $49 million dollar range. Hedge funders and retail chain heiresses get their kicks high above Aspen, most likely so they can look down on everybody. Who, though, lives on Billionaire Mountain?
According to Forbes, Willoughby Way (a residential street on the mountain) is home to Miguel and Jackie Bezos...does that name sound familiar? They're the parents of Jeff Bezos, and they own $20 million dollar home with 7 beds and 8 baths. That street is also where the homes of Matthew Bucksbaum (real estate magnate) and Daniel Och (hedge fund billionaire) reside.
You might also recognize the name "Dell"...That's right, I'm talking about the computers. Michael Dell, who created Dell Computer, has parents who live on Billionaire Mountain....W. Reds Road, to be specific. Their home is valued at $10.5 million dollars.
So many more notable names live on Red Mountain: Neil Bluhm, a casino billionaire, has a $25.5 million dollar mansion, William Wrigley Jr., a candy billionaire, hangs out in his $38.4 million dollar Aspen home, and Ann Walton Kroenke, the Wal-Mart heiress, chills in her $20.75 million dollar estate, according to Business Insider. Oh, to be rich, and to live on Red Mountain...
Maybe one day we'll be rich enough to live on a hill just for billionaires, but for now I'll stay on "Rental Ridge," a.k.a., my apartment complex, which is just enough for me.
Colorado real estate articles are made possible by our partners FNBO, The great big small bank that supports the local community and economy.
Forbes Top 5 Wealthiest People in Colorado
More From Power 102.9 NoCo - KARS-FM