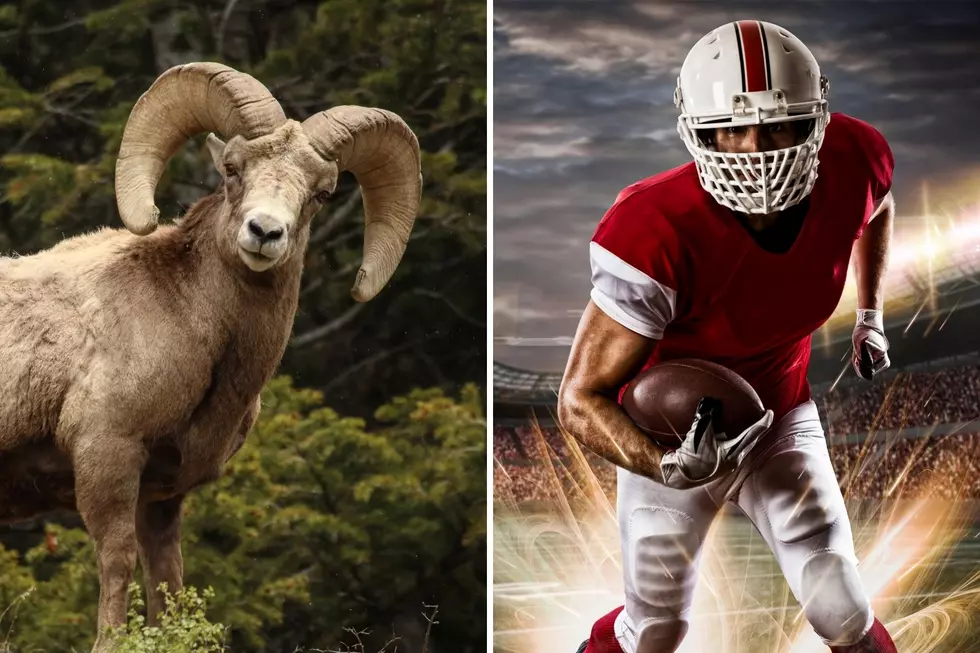 What Do Football Players and Bighorn Sheep Have in Common? More Than You'd Think
Canva
What do football players and bighorn sheep have in common?
This isn't the beginning of a knock-knock joke ⁠— and no, the answer isn't the Colorado State University Rams (although, that isn't technically wrong).
Unfortunately, the true commonality is more serious: head trauma.
According to ScienceBlog, a new study from the Icahn School of Medicine at Mount Sinai found signs of head trauma in the brains of deceased bighorn sheep ⁠— a discovery that may debunk beliefs that animals do not receive injuries from headbutting.
Researchers hope the study will improve the approach to head trauma in humans.
Football players commonly suffer from a condition called Chronic Traumatic Encephalopathy (CTE), which the Boston University CTE Center (through concussionfoundation.org) defines as "a degenerative brain disease found in athletes, military veterans, and others with a history of repetitive brain trauma."
"Death and disability caused by traumatic brain injury is a widespread problem that needs better solutions," study leader Nicole Ackermans, PhD, a postdoctoral fellow at Icahn Mount Sinai, told ScienceBlog. "We showed that animals which regularly engage in headbutting may actually suffer the kind of traumatic brain injury seen in humans. This opens the possibility that, by studying these animals, we could learn a lot about traumatic brain injury."
Dr. Ackermans noted that while the bighorn sheep's brains showed slight signs of trauma, the brains of muskoxen, which the team also studied, showed similar patterns to CTE patients.
The team obtained the brain samples from parks in Colorado — hopefully, these local sheep will make a difference.
These Are the Most Dangerous Animals in Colorado
It's no secret that Colorado is home to stunning wildlife. However, that doesn't mean we should interact with the wildlife — some animals are meant to be avoided. See the dangerous Colorado animals you should steer clear of in the gallery below.
Exploring the Denver Museum of Nature and Science
The Denver Museum of Nature and Science has a special exhibition to see for a limited time in 2022. Take a peek at Egypt: The Time of Pharaohs.
More From Power 102.9 NoCo - KARS-FM