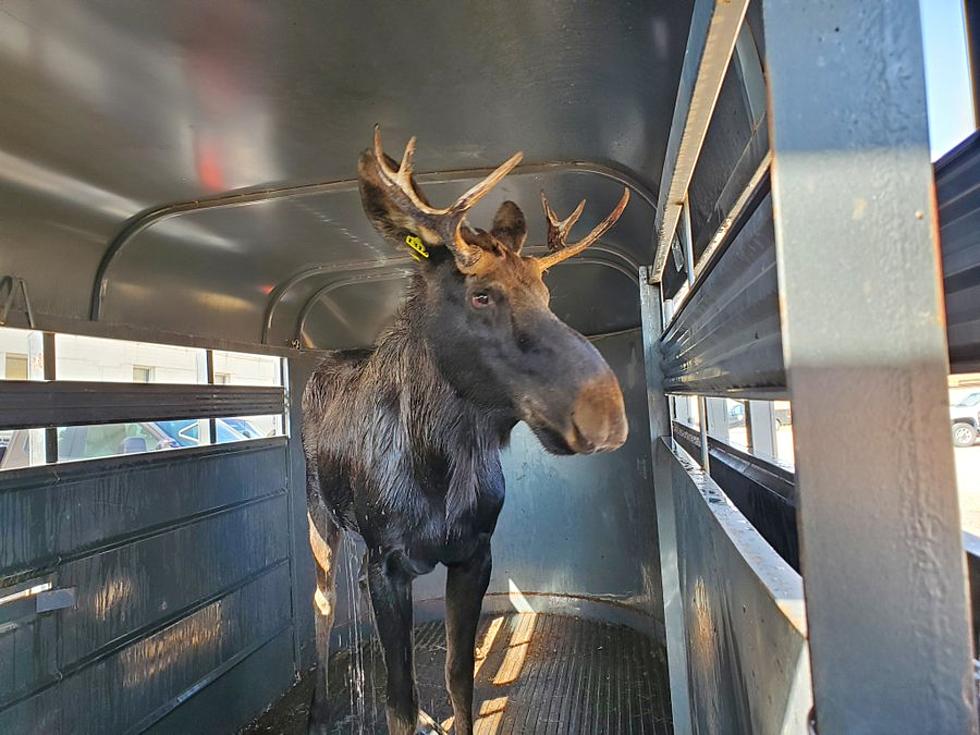 Colorado Moose Gets Bath, New Home
Colorado Parks & Wildlife
Talk about being in the wrong place at the right time — Wildlife officers treated a 700-pound bull moose to a bath before releasing it into proper moose habitat.
The moose was found grazing on the Fort Carson Army Base near Colorado Springs on Monday morning.
After the moose was rescued, officials from Colorado Parks and Wildlife reported that  officers Cassidy English and Corey Adler were able to successfully tranquilize the moose in order to move it into a trailer for transport. With the help of several CPW officers, the moose was lifted into the trailer and re-injected to reverse the effects of the tranquilizer.
Once the moose woke up, it was time for a bath. Colorado Parks and Wildlife public information officer Bill Vogrin said that the cool water from the hose helped the moose "stay calm through a stressful time."
According to Colorado Parks & Wildlife officials, the bull moose was taken into the mountains and released into an alpine wetland west of Colorado Springs. Watch the moose take its first steps out of the trailer and into its new habitat here:
Enter your number to get our free mobile app
Colorado's Wild Big Game Populations
More From Power 102.9 NoCo - KARS-FM