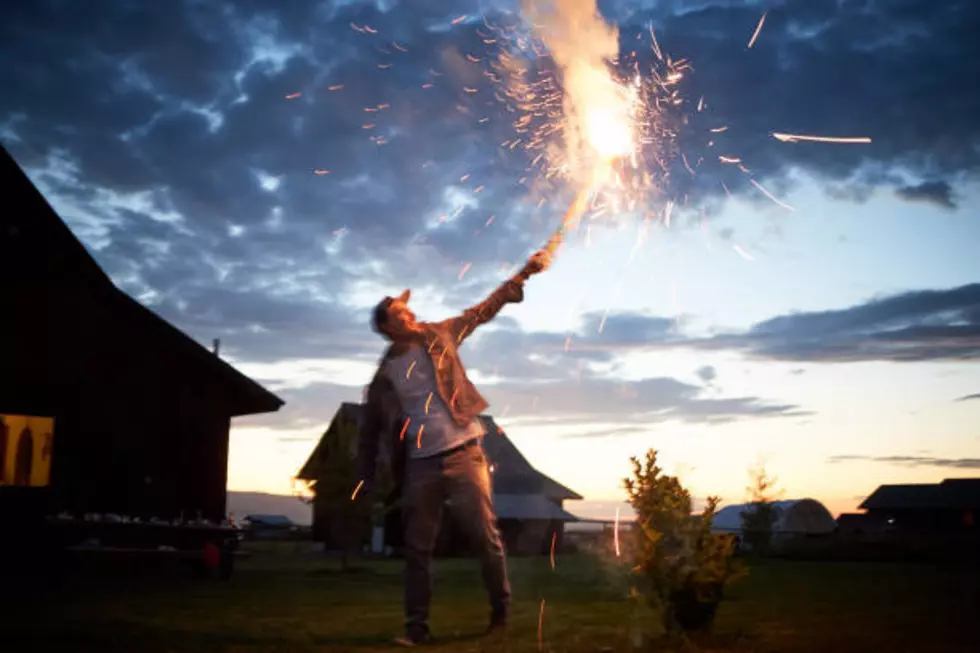 Did You Know? Most Fireworks Are Illegal In Colorado
Getty Images
I'll admit, this is news to me.
America's birthday (July 4) is celebrated in the form of countless traditions every year, but one tradition that a majority of Americans seem to partake in annually, without fail, is the lighting of fireworks.
(for the record, this isn't the part that is news to me)
This is - Did you know that most fireworks are illegal in Colorado? 
Specifically, any firework that leaves the ground is illegal in the state.
RELATED: The Largest Fireworks Display In Colorado Returns This July 4th
Fireworks That Are Illegal In Colorado
For starters, all fireworks that leave the ground are illegal in Colorado.
That includes:
firecrackers
cherry bombs 
bottle rockets
mortars
Roman candles 
lady fingers
Fireworks Restrictions, Rules & Guidelines For Northern Colorado & Surrounding Areas
Depending on what part of Colorado you live in, certain kinds of fireworks might be permitted in your area, such as:
sparklers
snakes
fountain fireworks
wheels
ground spinners
The following is a list of fireworks laws, rules, restrictions, and guidance for summer 2022 around Northern Colorado and surrounding areas, as per 9News: 
Fort Collins 
All fireworks, including sparklers and snakes, are illegal to sell, possess or use in the Choice City.
The possession and use (without a permit) of fireworks of any kind in Fort Collins may result in confiscation of the fireworks, issuance of a summons into municipal court, and a fine up to $2,650.
Greeley 
Permissible fireworks are non-explosive and are not intended to leave the ground— such as fountains, ground spinners, illuminating torches, dipped sticks and sparklers, toy propellants, trick noise makers, and tube devices.
Greeley City Council voted to amend the city ordinance related to the sale, possession, and use of fireworks in the city earlier this month, according to 9News. 
Effective June 15, 2022, this change increases fines up to $1,000. This fine also applies to people who willingly allow others to possess or use illegal fireworks on their property — not just the people setting them off.
Loveland 
The sale or use of any firework that leaves the ground is illegal in Loveland.
Legal fireworks in Loveland include sparklers, fountains, smoke balls, items with crackle or strobe effects, wheels and spinners, and various novelty items.
Johnstown 
Any kind of firework that leaves the ground and explodes is illegal in Johnstown. Illegal fireworks include torpedoes, skyrockets, rockets, Roman candles, and Day-Glow bombs.
Severance
It is unlawful for any person to use or ignite fireworks within the municipal limits of Severance. It is also unlawful to manufacture, sell or store for sale any fireworks within the municipal limits.
Windsor 
All fireworks that are not part of a professional display permitted by Windsor Severance Fire Rescue are illegal in the towns of Windsor and Severance.
Longmont 
All fireworks that leave the ground and explode are illegal in Longmont. Fines for use of illegal fireworks are up to $500 and 90 days in jail and/or both.
If you plan on celebrating America's birthday this summer with some sort of fireworks display in Colorado, make sure you are doing so accordingly - or else it could cost you, big time.
13 Crazy Colorado Laws That Make No Sense
There are laws everywhere - a lot of them we know about and abide by every day. But, there are others I'm willing to bet you knew nothing about.
7 Reasons Colorado Ranks as the Nation's 6th Most Fun State
There are five other states that are more fun, but there are 44 others that are begging for our spot. Find out why we came in at #6 and who beat us out for the Top 5.
More From Power 102.9 NoCo - KARS-FM