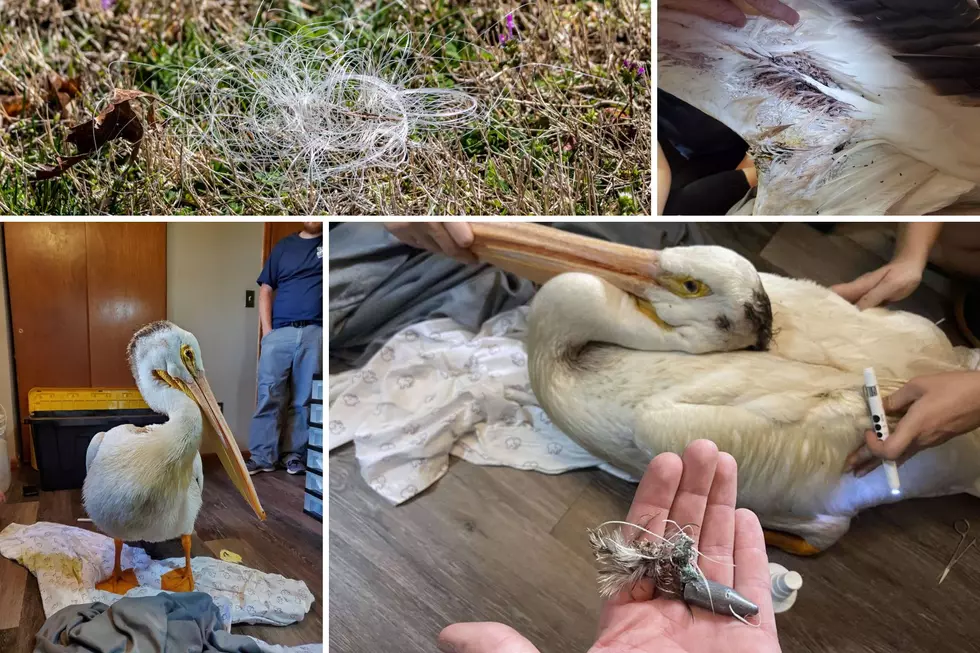 Injured Loveland Pelican Shows Just How Damaging Fishing Lines Can Be
Canva, Northern Colorado Wildlife Center // Facebook
You've heard the phrase "leave no trace." It's the practice of minimizing your impact on the natural world — unfortunately, many people don't.
Despite the efforts of wildlife agencies like the National Park Service (NPS), some continue to litter in wild spaces, leaving trash, equipment, and fishing lines in their wake.
The latter is particularly dangerous for wildlife, as evidenced by a pelican recently injured by a fishing line in Loveland.
According to a Facebook post from the Northern Colorado Wildlife Center (NCWC), the bird had a displaced wing and was struggling to move its head and neck after it got tangled in litter containing a fishing line, a weight, and a hook.
The animal was also completely covered in lice, as the entanglement prevented it from cleaning itself.
Thankfully, the wildlife rescue team at NCWC successfully removed the fishing litter from the pelican, cleaned its injuries, and treated its lice. The non-profit believes that, after rehabilitation, the bird will be able to return to the wild and fly again.
Still, the incident serves as a reminder of the dangers that fishing litter poses.
According to The Wildlife Center of Virginia, fishing litter can cause feather damage, lacerations, exhaustion, starvation, dehydration, and internal bleeding in wildlife.
The City of Loveland notes that fishing litter is also bad for nesting birds — they use it to build their nests, accidentally endangering baby birds.
The next time you head out to Horsetooth Reservoir or Lake Loveland on a fishing trip, make sure you dispose of your materials in a trash can or collection tube.
Photos: 10 Reminders to 'Leave No Trace' in Colorado
25 Crazy Wildlife Encounters That Happened in Colorado This Year
2022 has already been a wild year for Colorado wildlife. Check out some of the craziest wildlife encounters in the Centennial State in the gallery below.
More From Power 102.9 NoCo - KARS-FM