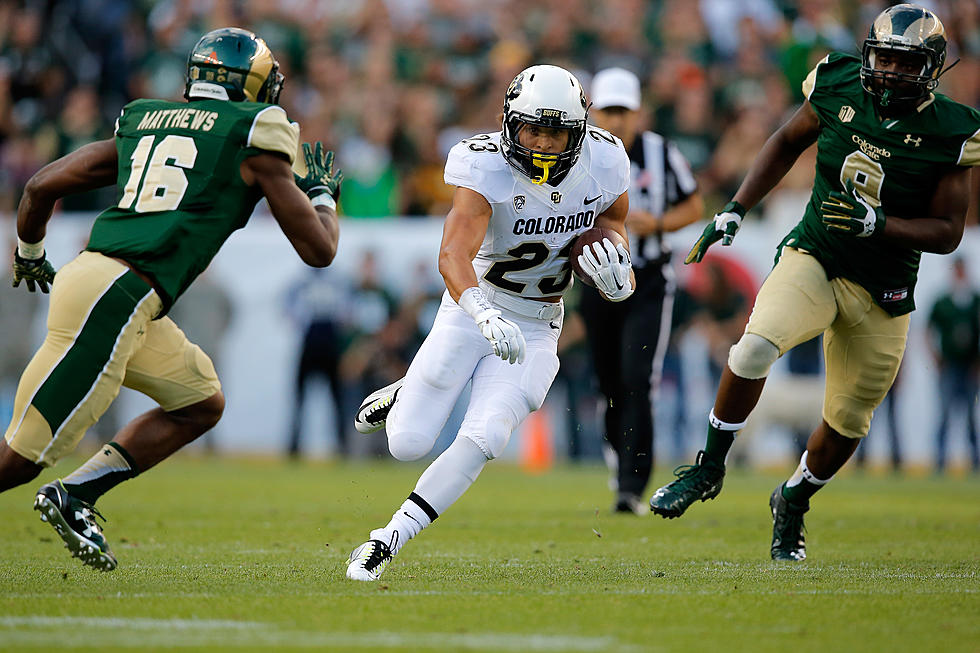 Go Rams: Rocky Mountain Showdown Extended Through 2038
Getty Images
From athletic rivalry to tailgating, both Rams and Buffs alike have memories from the famous Rocky Mountain Showdown.
Now, fans of each university will be able to enjoy the classic competition for years to come.
In a Tuesday (April 13) announcement, Colorado State University and the University of Colorado Boulder unveiled a new agreement surrounding the Rocky Mountain Showdown which adds an additional six games to the series, extending the tradition through 2038.
The agreement also moves all of the games to on-campus sites. Previously hosted in Denver, the Showdown will now rotate between CSU's Canvas Stadium and CU Boulder's Folsom Field.
"For both fan bases, this is a premiere game any time it's on the schedule, and it was important to both Rick George [CU Boulder Athletic Director] and I to get this done," said Joe Parker, Colorado State Director of Athletics, in the announcement. "It was also essential to get the Showdown back on campus. College football is best enjoyed in on-campus venues, and I'm thrilled we were able to get that done for fans of both teams for the foreseeable future."
CU Boulder will host the Rams on Sept. 16, 2023, while the teams will face off at Canvas Stadium on Sept. 14, 2024 — the Buffs' first trip to the Choice City since 1996.
The six additional games are scheduled as follows:
Sept. 15, 2029
Sept. 14, 2030
Sept. 17, 2033
Sept. 16, 2034
Sept. 19, 2037
Sept. 11, 2038
The Rocky Mountain Showdown was originally supposed to debut at Canvas Stadium in 2020; however, the event was cancelled due to the COVID-19 pandemic.
CSU has also released their football promotions for the 2021 season, including the Homecoming game on Oct. 9.
CSU Rams Fans Through the Years
More From Power 102.9 NoCo - KARS-FM