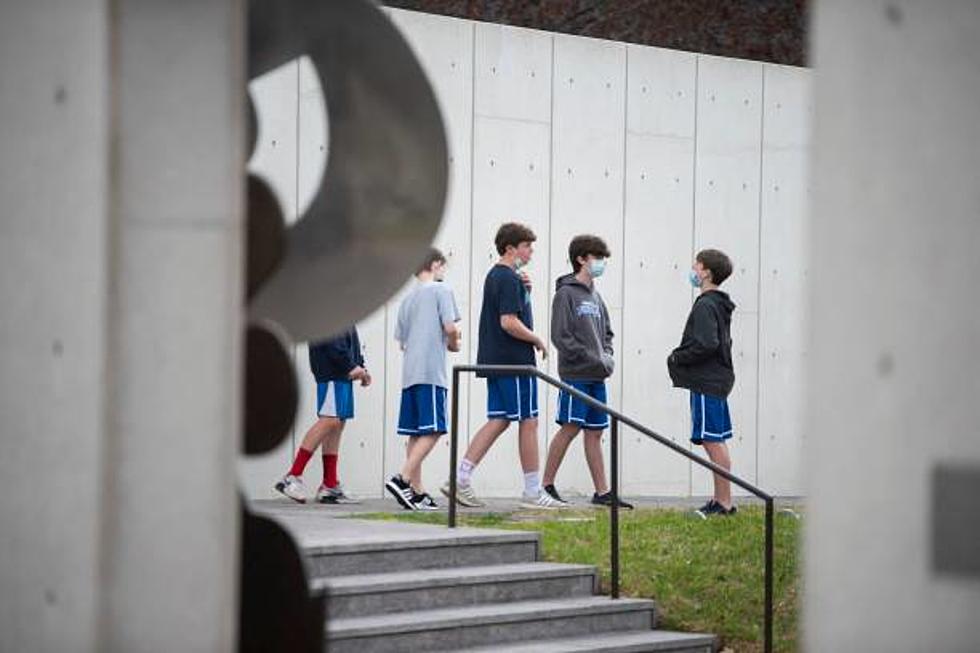 Greeley-Evans District 6 Now Requiring Masks For Pre K-8th Grade Students, Staff
AFP /AFP via Getty Images
The Greeley-Evans School District 6 Board of Education voted unanimously last week to require masks all for Pre-K through 8th grade students, as well as staff in buildings for those students.
The mask mandate goes into effect today, Monday, Aug. 30.
According to a letter addressed to the District 6 community from superintendent Deirdre Pilch, the Greeley-Evans School District 6 Board of Education met in a special session last Friday (Aug. 27) and passed a motion to require masks be worn by all students, staff and visitors indoors at all non-charter schools in grades preschool through eighth-grade.
Although not required, masks will still be strongly recommended for high school students and adults who are not fully vaccinated.
"With the Delta variant spreading significantly since the start of the school year, we have seen a number of positive and probable COVID-19 cases and quarantines comparable to the beginning of November 2020, just prior to the District moving to remote learning before Thanksgiving break", the letter addressed to the District 6 community states.
In making this decision, the Greeley-Evans District 6 Board aims to achieve three main goals, which are:
To help protect students who are not eligible for the COVID-19 vaccine
To significantly reduce the number of students being quarantined due to exposure to COVID-19
To keep students in person learning as much as possible during this pandemic
"Our Board of Education feels a strong responsibility to protect the students who attend District 6 schools. The love for our students and the recognition that we have to do whatever we can to keep them safe and learning during this pandemic has driven this decision", said Board President, Michael Mathews.
My greatest hope is that this decision will not become another distraction to our student's learning and that our families will help make this transition as smooth as possible for students. This decision was made with the best of intentions, to help protect the safety and health of our students and staff, and to allow us to continue our primary mission: To educate the students of Greeley-Evans School District 6."
As per the letter, families seeking a medical exemption for their child to be excused from wearing a mask can get more information and access the medical exempt form here.
The new mask mandate comes just a month after District 6 initially announced it would not require fully vaccinated individuals to wear masks during the school year.
The Greeley Tribune says a letter to the district community that was sent out in July said the decision for the fully vaccinated would be based on "personal choice," while "strongly recommending" masks in buildings for those who are not vaccinated.
UP NEXT: 5 Things That Are Getting Us Through This Pandemic
MORE INFO: 7 easy ways to stop touching your face
More From Power 102.9 NoCo - KARS-FM