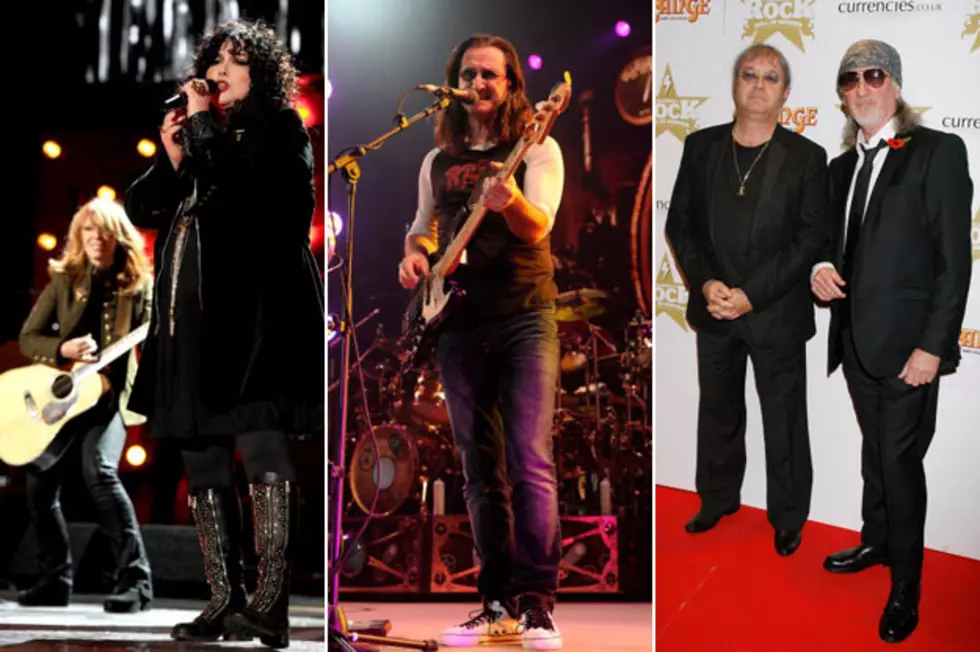 Heart, Rush, Deep Purple + More Nominated for 2013 Induction in Rock and Roll Hall of Fame
Kevin Winter / Ethan Miller / Jo Hale, Getty Images
Grousing about the Rock and Roll Hall of Fame's nominees for induction has become an annual tradition, but this year, several groups of long-suffering fans may be surprised to find themselves without an axe to grind: At long last, perennial "why aren't they in the Hall?" favorites Rush are on the ballot.
They join an eclectic group of nominees that includes Heart, Deep Purple, Joan Jett and the Blackhearts, Procol Harum, Albert King, the Paul Butterfield Blues Band, the Meters, Chic, Randy Newman, the Marvelettes, Kraftwerk, Donna Summer, Public Enemy, and N.W.A.
"The definition of 'rock and roll' means different things to different people, but as broad as the classifications may be, they all share a common love of the music," said Rock and Roll Hall of Fame CEO Joel Peresman in a press release, acknowledging the broad artistic territory encompassed by the nominees. "This year we again proudly put forth a fantastic array of groups and artists that span the entire genre that is 'rock and roll'."
It now falls to the more than 600 Hall of Fame voters to decide who makes it in -- and who will take the stage for the annual all-star jam at the induction ceremony. Next year's gala, which marks the Hall of Fame's 28th annual event, will take place in Los Angeles on April 18, 2013 and be recorded for future broadcast on HBO.
More From Power 102.9 NoCo - KARS-FM