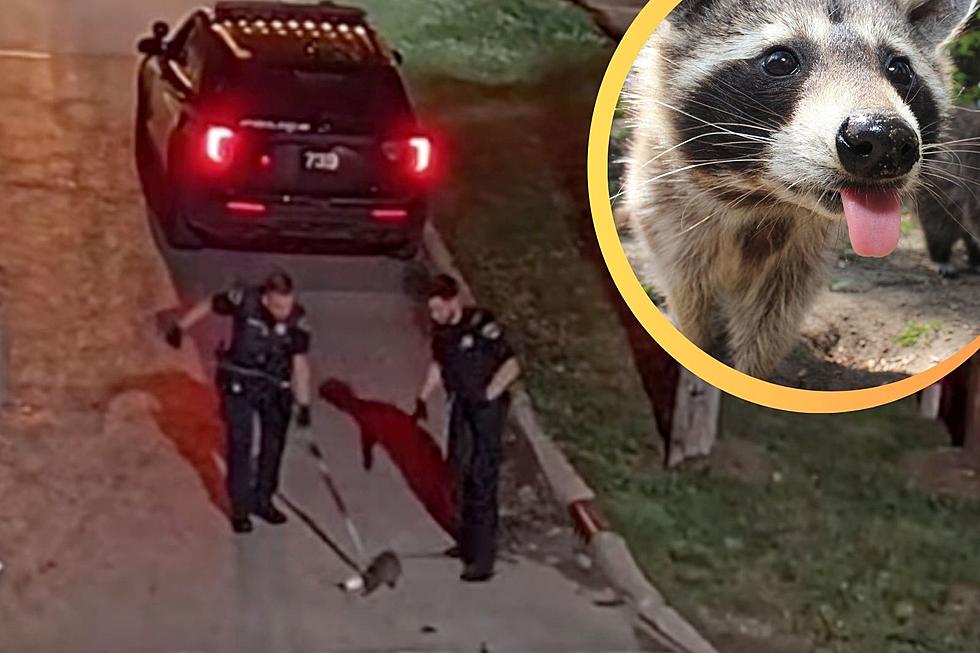 Ohio Police Triumphantly Save Raccoon With Head Stuck in Mayo Jar
Painesville Police Department via Facebook, Canva
It's one thing for a criminal to get caught with a hand in the proverbial cookie jar. But what about when the bad guy has his entire head suck in a mayo jar?
Police in Painesville, Ohio responded to what could be described as a "distress call" in the early morning hours of July 13.
Upon arriving at the location, officers discovered a curious raccoon with his head fully lodged in a mayonnaise jar.
According to a Facebook post from the police department, "sightings of a masked bandit with a mayo jar stuck on its head were reported in the Bank Street area near E. Walnut Avenue."
In the video shared by Painesville Police, two officers and an intern from the department capture the raccoon using a long pole.
One officer holds the raccoon steady at the end of the pole while the other works to free the creature's head from the mayo jar.
Once free, the raccoon goes straight toward the intern from the police department who has to dart out of the way of the fleet-footed fur ball.
"Police intern Gill added a little hop to his step," the department wrote in the Facebook post.
The video currently has more than 16,000 views. The comments have not disappointed.
"Was that Hellmann's or Kraft?" one commenter asked under the video. "I sure hope it wasn't Miracle Whip! That stuff is worse than pineapple on pizza!"
Others commended the officers for their work to free the critter.
"Thank you for your diligence... And humor!"
Painesville is approximately 30 miles northeast of Cleveland.
LOOK: 30 fascinating facts about sleep in the animal kingdom
LOOK: Here is the richest town in each state
Just saying the names of these towns immediately conjures up images of grand mansions, luxury cars, and ritzy restaurants. Read on to see which town in your home state took the title of the richest location and which place had the highest median income in the country. Who knows—your hometown might even be on this list.