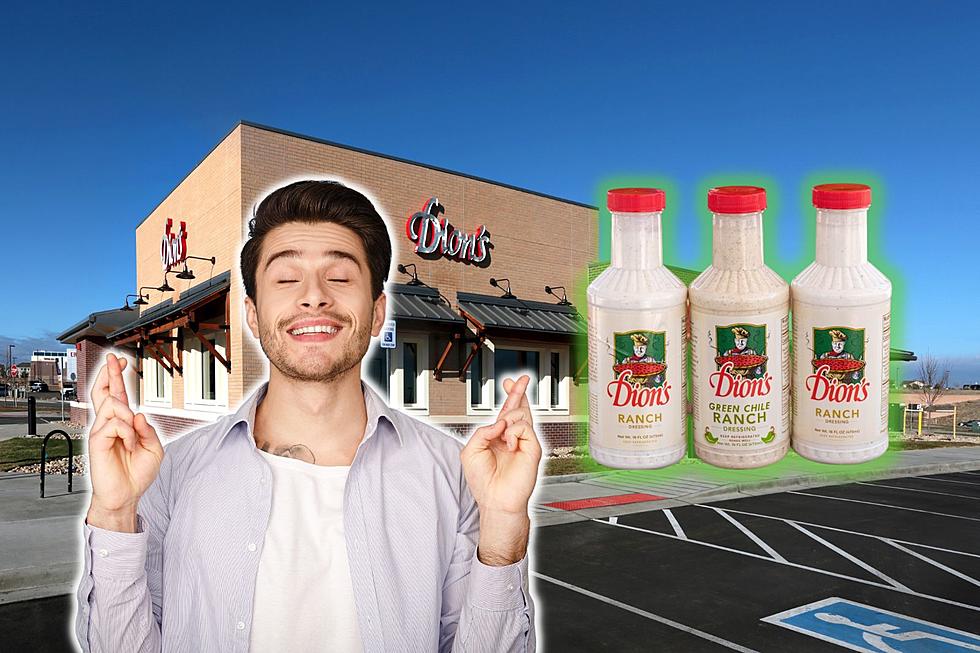 My Open Letter to Dion's Pizza: We Want You in Northern Colorado
Dion's Pizza/Canva
It has been a few years since my first Dion's Pizza experience. I remember it still to this very day. When you are a green chile lover like myself and find a pizza place that puts Hatch Green Chiles on a pedestal, you instantly become a fan.
Dion's Pizza is a chain out of New Mexico. Jon Patten and Bill Scott came from Michigan to Albuquerque in 1978 with the goal of opening a Greek restaurant. The duo purchased a pizzeria to turn into a restaurant focusing on Greek cuisine such as gyros and baklava. While they patiently waited for the equipment to arrive, the previous owners taught Jon and Bill how to make pizza. The rest is history.
Dion's Pizza is highly popular in the state of New Mexico and the pizzeria even has a couple of locations in Colorado. Pizzas, salads, subs, and desserts can all be had at Dion's Pizza.
What Makes Dion's Pizza So Special?
For me, it is the incorporation of the green chile on Dion's pizzas, salads, and subs. Dion's uses New Mexico green chiles and the flavor is outstanding. Dion's Pizza has an oh-so-delicious Green Chile Ranch dressing that goes great on everything.
If you happen to need any more proof of how good Dion's Pizza does their food, check these photos out:
Dion's Pizza looks pretty tasty, right? There is only one problem. There isn't a Dion's Pizza in Northern Colorado. I am hoping I can change that with an open letter.
Dear Dion's Pizza,

 

First and Foremost, thank you for making such great food. Every one of my friends and family that we have taken to Dion's has loved your pizzas and salads. As you are aware, Dion's Pizza is nowhere to be found in Northern Colorado. Can we please change that?

 

I would love to be able to make a 15-20 minute drive and pick up a pizza and a bottle of Green Chile Ranch and I am sure the rest of the residents in Northern Colorado would love that as well. As Dion's Pizza continues to grow, please keep our region of Northern Colorado in mind when it comes time to expand even further in Northern Colorado. I don't want to have to beg, but I will do what I have to do to have Dion's Pizza Green Chile Ranch easily at my disposal.

 

Please consider opening a location in Fort Collins, Greeley, Loveland, or Windsor. I am certain that not a single soul would be disappointed if you chose to open a Dion's Pizza location in every single one of those cities.

 

Until that happens, Just one Dion's Pizza location would be super awesome.

 

Please bring Dion's Pizza to Northern Colorado.

Sincerely,

Matt Sparx
If you have never had Dion's Pizza before, I highly suggest you make the drive to at least have a slice of pizza. The closest Dion's Pizza to Northern Colorado is in Commerce City, Colorado. The drive will take you about an hour, but trust me, it is well worth the road trip.
Want to learn more about this New Mexico pizzeria, see the menu, and get directions to the Commer City location of Dion's Pizza? Head over to Dions.com.
This Is What 2023's Tour de Fat in Fort Collins Looked Like
Loveland's Sweet Heart Winery and Event Center is Up For Sale
If you have always wanted to own a winery in Northern Colorado, here is your chance. Sweet Heart Winery and Event Center in Loveland is for sale for $4.9 million.
More From Power 102.9 NoCo - KARS-FM