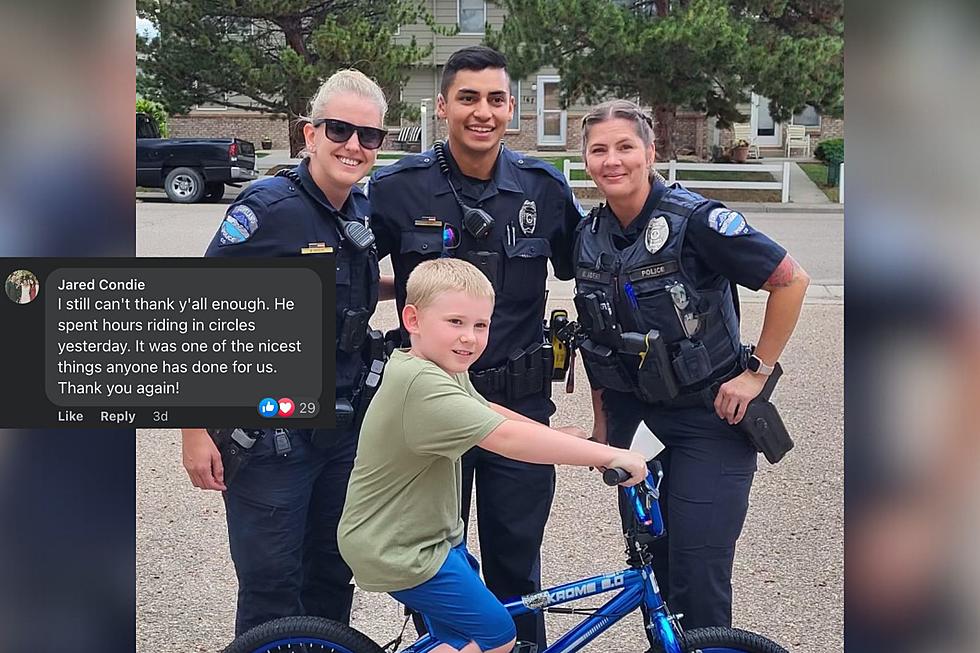 Kindness in Action: Colorado's Loveland Police Gift New Bike to Boy Whose Was Stolen
Facebook, Loveland Police Department, Canva
Bike theft is unfortunately a big issue in Northern Colorado. I am on multiple Northern Colorado-focused Facebook and I see multiple bike theft posts every week.
Related: Tips for How to Get Your Stolen Bike Back in Fort Collins, Colorado
Seeing a social media post about a child's bike being stolen is especially disheartening. The Loveland Police Department received a report that a Loveland child, Knox, had his bike stolen right before his birthday.
The Loveland Police Department stepped up to the plate and purchased the boy a brand-new bike.
Meet Knox!

Knox is about to have a birthday and was very upset to find his bike was stolen from in front of his house.

Officers couldn't stand to see him upset and took it upon themselves to turn his birthday around by purchasing a bike for him with their own money.

Needless to say, Knox was so happy and immediately put a police badge sticker on the bike.

Happy birthday, buddy.
Here Is A Photo of Knox With His New Best Friends
Knox's Parents Commented On the Picture
This Comment Is From Knox's Mom
Northern Colorado Applauds the Kind Act
Since the post was made on Aug. 29th, nearly 1,000 people have liked the photo. Many people are commenting about how thoughtful it was and how the Loveland Police Department went above and beyond to turn a child's day around.
I was in the bike store when the officer came and bought it. It was so awesome to witness such kindness! - Kathy Gibbs
You Could Buy This Denver Mansion Elvis Presley Used to Visit
This Denver, Colorado, mansion has had quite a few famous people visit over the decades. The mansion has over 15,000 square feet of living space and was built in 1972. Take a look inside.
Take a Stroll Through Arkins Promenade
This elevated path takes nature walks to new heights.