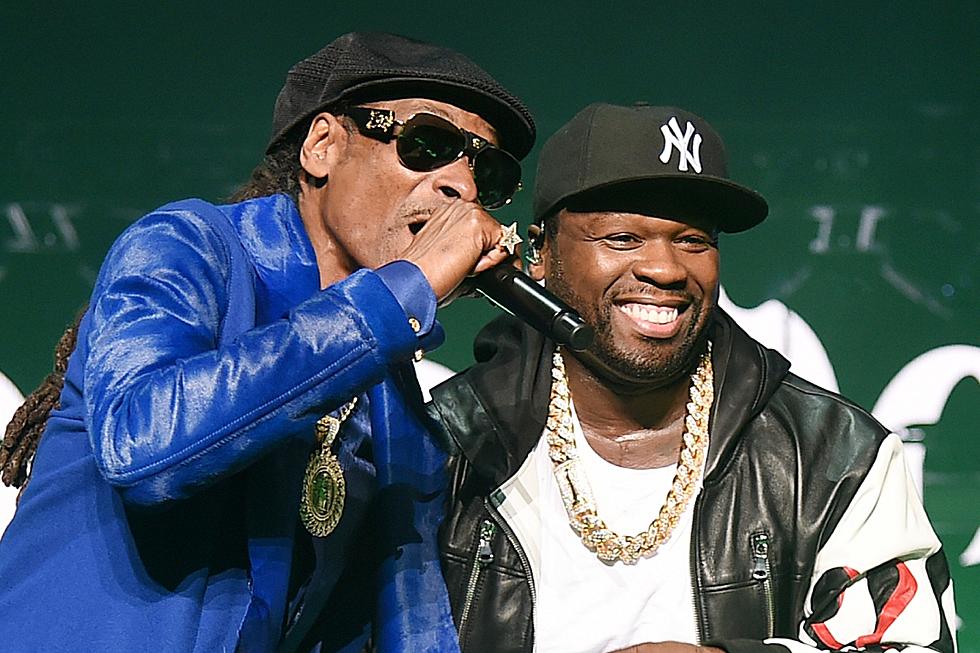 50 Cent Tells Fans to Call Snoop Dogg for Tickets to Fif's Sold-Out Los Angeles Show, Snoop Responds
Jamie McCarthy/Getty Images
50 Cent recently trolled Snoop Dogg by telling fans to reach out to the Cali rap legend for tickets to Fif's sold-out show in Los Angeles, which has prompted a response from the Doggfather.
On Tuesday (Aug. 29), 50 Cent shared a video on Instagram that shows footage from the  Queens, N.Y. rap mogul's recent Final Lap Tour show in Albuquerque, N.M. Fif captioned the lit clip, "LA tomorrow night we are gonna turn it all the way up SOLD OUT ! But call @snoopdogg for tickets, he can still get everybody in. I'm turning my phone off. LOL."
Snoop Dogg Responds to 50 Troll
On Wednesday (Aug. 30), Snoop Dogg responded to 50 Cent's post after apparently being bombarded with requests for tickets to Fif's show.
"Hold on. Why all you n****s keep calling on me for these tickets to 50 Cent's concert?" Snoop said in the clip. "N***a, I ain't got no tickets to 50's concert or mine.
Snoop Dogg continued, "50 Cent, you told these n****s to call me for tickets? N***a, I ain't got no tickets to your show. I ain't got no tickets to my show. Y'all can stop calling me, texting me, talking about, '50 said…' Y'all better take that s**t up with 50, n***a. I can't do nothing for you, man."
50 Cent Reacts to Snoop Dogg Response
50 Cent has since acknowledged Snoop post.
"Everybody know it's not a good idea to come to LA fvcking around," 50 captioned a screenshot of an article about Snoop's response. "It still Death Row Records @snoopdogg running s**t! if he say you ain't getting in, you ain't getting in it's SOLD OUT. But he got the juice around here you know what I mean."
50 Cent is about halfway into the first leg of his massive Final Lap Tour. He has 17 North American dates left before he takes his show across The Pond  for for another 48 shows in Europe Asia and Australia.
See the Guide to Rappers Touring in 2023