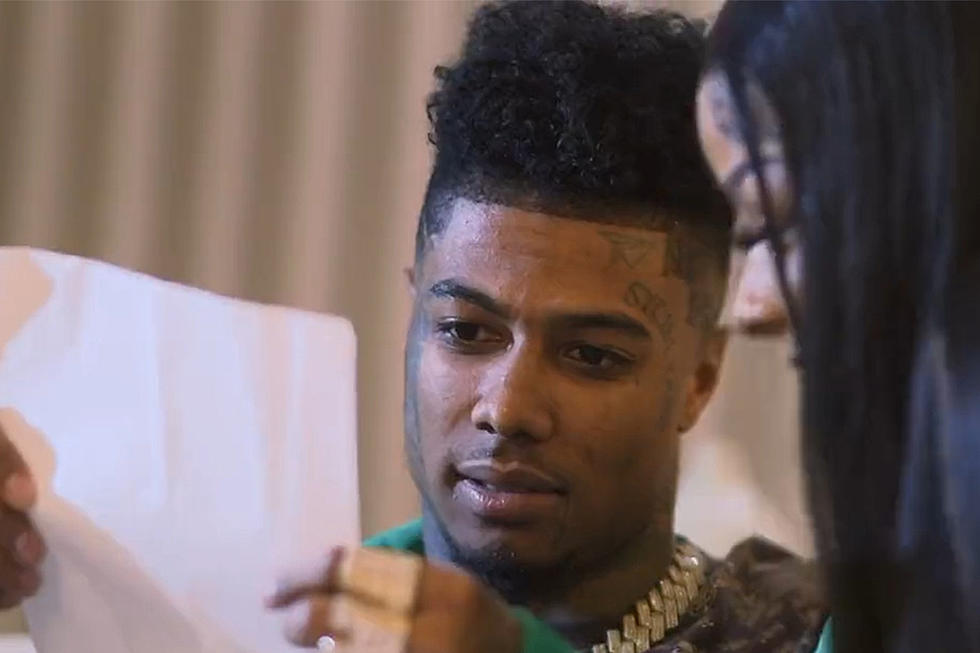 Blueface Discovers He's Actually the Father of Chrisean Rock's Child – Watch
The_ZeusNetwork/Twitter
Blueface has discovered that he actually is the father of Chrisean Rock's child.
Blueface and Chrisean Rock Read Paternity Test Results
On Sunday (Aug. 27), the Zeus Network aired the latest episode of Blueface and Chrisean Rock's reality TV show, Crazy in Love. In a clip of the show shared by the network itself via Twitter, the controversial couple sat down to finally review the results of Blueface's paternity test as it pertains to the child Chrisean Rock is currently pregnant with. Despite the Los Angeles rapper having questioned whether or not the child is his throughout the better part of 2023, it appears as though the soon-to-be-born baby does in fact belong to him.
"It's like, kind of confusing," Blueface begins in the Crazy in Love footage below. "It says, 'The alleged father is not excluded as the biological father of the fetus. What does that mean?"
After a brief pause while both Chrisean Rock and the "Thotiana" rhymer further examine the document, the excited expecting mother comes to a realization and offers Blueface a clarification.
"That means you're the father," Chrisean Rock exclaims. "Babe, this means you're the father. You the father, n***a."
Blueface replies: "Oh, that's what that means?"
"Yes, can you give me a kiss, you little weird-a*s n***a?" Chrisean asks before Blueface reluctantly obliges.
Why Did Blueface Take a Paternity Test?
Over the past five months, Blueface has often questioned the paternity of his and Chrisean Rock's unborn child. Back in March, Blue hit up Instagram with a lengthy message aimed at his seemingly star-crossed lover explaining that he is not only unsure of whether or not he's actually the father but also suggested that Chrisean get an abortion.
"This is what it's supposed to look like when a woman tells a man she pregnant," Blueface captioned a since-deleted video of his ex-girlfriend, Jaidyn Alexis, telling him that she's pregnant with their second child. "Any other response or question you should abort the baby a treat the next n***a better for the sake of you him and the baby."
Blueface continued: "No man should question the paternity of a child if they do 9x outta 10 the woman hasn't been valuing herself enough which makes them believe theirs a possibility it's not theirs this is a wholesome beautiful moment that every righteous woman deserves fr."
What Is Blueface and Chrisean Rock's Current Relationship Status?
While Chrisean Rock seems more than willing to carry on in her beyond-toxic relationship with Blueface, things remain contentious between the two for the most part.
After Chrisean implied that she was looking into having all of her tattoos dedicated to Blueface removed back in July, the on-again, off-again couple engaged in a series of nasty tweets aimed at each other. Chrisean accused Blueface of trying to control her money while Blue blamed Chrisean Rock for him being on house arrest. In the most recent spat earlier this month, Blueface claimed that he was sent to Chrisean by God.
Check out the Crazy in Love video clip below to see Blueface and Chrisean Rock read the results of Blue's paternity test below.
Watch Blueface Learn That He Is the Father of Chrisean Rock's Unborn Child
See 50 Unique Names Rappers Gave Their Kids