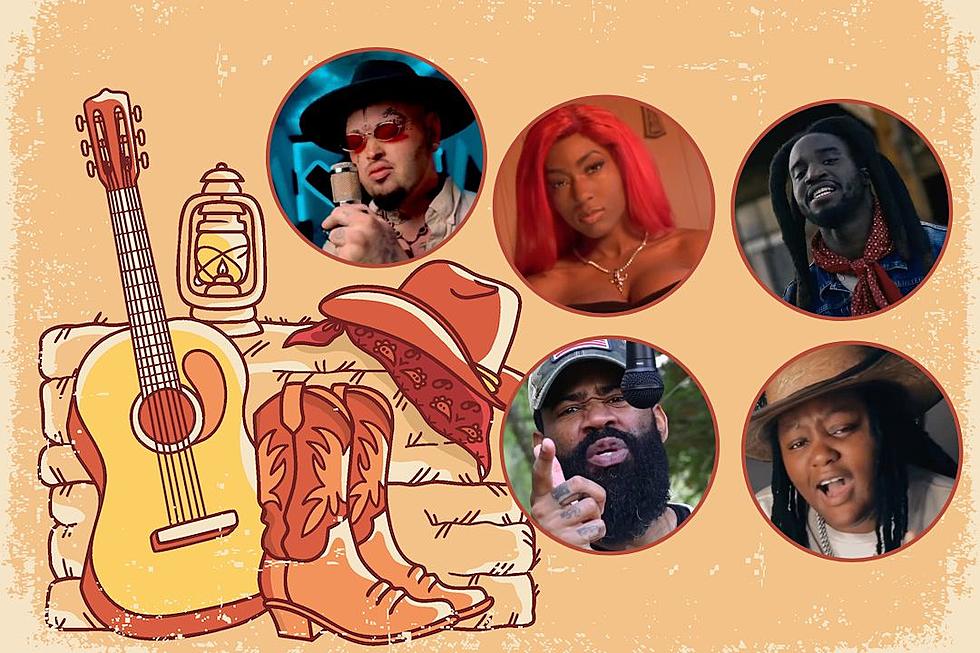 These Country Artists Are Bridging the Gap Between Country and Trap
LunaticLu/iStock/Getty Images/commontribebadazz/Instagram/ Reyna Roberts/YouTube/ themarinerapper/Instagram/shaboozey/YouTube/youngfoolie/Instagram
Country music and hip-hop have been connected for many years as a result of artists from both genres experimenting with each other's sounds. Certainly, a cowboy hat tip goes to Lil Nas X for his viral 2019 hit "Old Town Road" with Billy Ray Cyrus. It's one of the most successful examples of how country and rap can merge so well together. For Nas X, the bouncy track became a No. 1 Billboard Hot 100 hit and a certified diamond-selling single for 10 million copies sold.
Nelly is arguably the first rapper to collaborate with a country artist and has been quite successful. In 2004, the St. Louis rhymer achieved a No. 3 Billboard Hot 100 hit with "Over and Over" featuring Tim McGraw. Nelly went on to drop his own country-inspired album, Heartland, in 2021. The LP features collaborations with country music's Florida Georgia Line, Kane Brown, Darius Rucker and more.
Lately, there are several country artists showcasing a delivery popular in hip-hop on their songs and adding trap music-inspired beats to twangy guitar sounds. Recently, Gucci Mane announced his interest in signing country artist Oliver Anthony Music after the singer's new song, "Rich Men North of Richmond," went viral and hit No. 1 on the Billboard Hot 100 chart. Meanwhile, rap veteran Boosie BadAzz signed his first country artist, Common Tribe, after seeing the success of country artists on the music charts and streaming services.
"Country is money. Country support they people," Boosie told XXL in an interview this past summer. "I went to looking at all them damn country sales and them country artists, them numbers doing. I said, 'I got to find me a country artist.' I found the diamond in a rough."
Hip-hop has also hit country music festivals. Next year, Stagecoach, California's biggest country music festival, will feature headliners Post Malone (who'll be performing a set of country covers) and Wiz Khalifa.
Here, XXL highlights country artists who are bridging the gap between country and trap with their distinctive sounds. Listen below to the country crossover.
Common Tribe is Boosie BadAzz's latest passion project. Boosie signed the country artist to Bad Azz Music Syndicate. The California native, born Amill Livingston, has experienced a life of ups and downs, which is heard throughout his music. Growing up in different foster homes to being homeless, he certainly is an example of possessing the ultimate perseverance and strength to fulfill a dream. Listen to songs like "Lame" and "Welcome to America," his collab with Boosie.

Country singer Sydney Mavcus is making waves with his anthemic country-rap single "Country Boy," which features an acoustic guitar riff over bumping trap beat.

Prep Cashmere is a country-rap artist who has a dance hit with his foot-stomping jam "Bootwalk," which samples Nancy Sinatra's 1966 hit "These Boots Are Made for Walkin'."

Young Foolie is a bright star in country music. The young artist delivers a rap-sung melody similar to Rod Wave's melodic style except her music is made to uplift. On her ballad "Dangerous Love," Foolie sings of heartbreak but vows to mend her heart and find love again.

Hoodbillies (Colt Ford and Krizz Kaliko)

Country singer Colt Ford teamed up with rapper Krizz Kaliko to form the country-rap duo Hoodbillies. Their latest single, "Big Yeah," is a honky-tonk rap tune that would most likely be heard at a tailgate party.

Jelly Roll is a traditional country singer who's not afraid to add a little trap in his music. On "Unlive," the Tennessee crooner partners with Yelawolf and delivers a cautionary ode about drugs over twangy electric guitars and a rollicking trap beat.

Randy Savvy, who works to motivate youth through horseback riding as a member of the Compton Cowboys, has seen the damage drugs and gangs have done to his community in Compton, Calif. Savvy channels all of his street experiences and pain into his music. His latest single, "Flaggin'," is his patriotic ode to his colors of red, white and blue and his American pride.

Reyna Roberts is a country artist on the rise, and she's got a personality that's both sassy and sweet, kind of like Yung Miami. The Alaska native brings her act bad attitude and rap-sing flow to "Miranda," a fiery track from her latest album, Bad Girl Bible, Vol. 1.

Rvshvd is a little bit country and a little bit street. He brings all those elements to his music and offers a fresh and honest sound that avoids country music's tired "Small Town" cliches. The 26-year-old singer's "Shoebox Money" is an aspirational single about his early grind in becoming a musician.

Shaboozey is not a typical country artist. Instead of singing about traditional country themes like heartbreak and losing a dog, this Nigerian-American singer brings a more angst-filled rap style to the genre. It's a refreshing change of pace for country music. Shaboozey's latest album, Cowboys Live Forever, Outlaws Never Die, is full of great tracks, including this country-trap banger "Snake."

New Jersey rhymer The Marine Rapper recently flipped Oliver Anthony Music's viral hit "Rich Men North of Richmond" into a protest song that connects with the everyday working man.