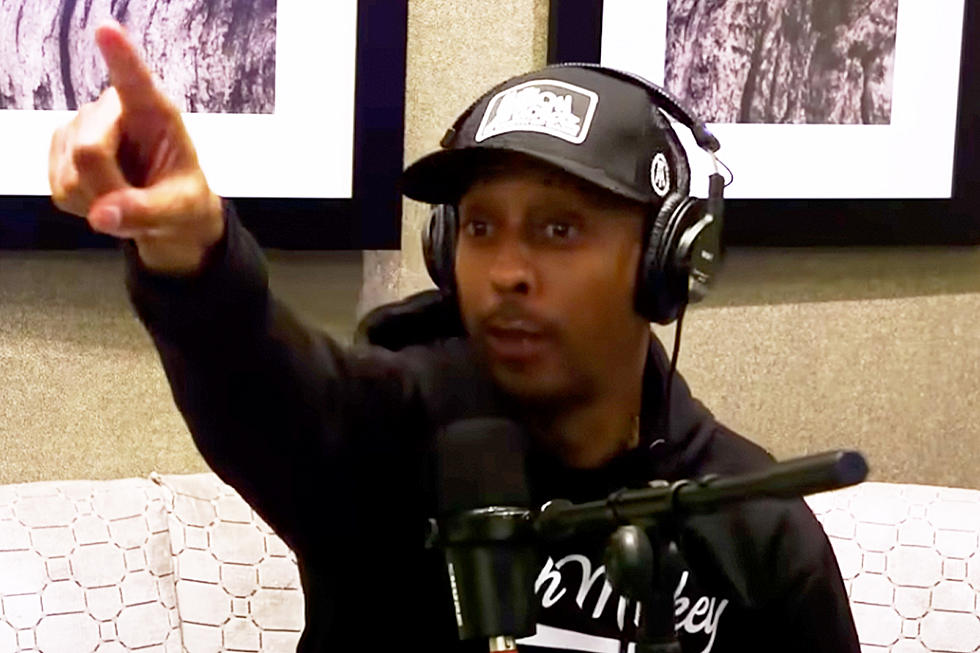 Gillie Da Kid Adamantly Claims There's an Age Limit for Rappers – Watch
Million Dollaz Worth of Game/YouTube
Gillie Da Kid is adamant in his opinion that there's an age limit for rappers.
In a recent episode of his Million Dollaz Worth of Game podcast, which premiered on May 12, hosts Gillie Da Kid and Wallo were joined by 03 Greedo. In a discussion that includes what life was like for Greedo during his five-year prison stint and what his career in hip-hop has been like in the months since his release, the conversation turned to the topic of aging rappers.
Gillie Da Kid didn't mince words when it comes to when he thinks it's time for rhymers of a certain stage in life to hang up the mic.
"F*****g right there's an age limit to rap," Gillie Da Kid boldly explained to 03 Greedo and Wallo around the 31:35-mark in the video below. "If you ain't poppin' by a certain age, let that s**t go. Muthaf****s be like all the time, 'Yo, Gil, your platform crazy. This the perfect time drop something now.' Shut the f**k up, man. F**k is you talkin' about? Do I look like a n***a that's holding onto yesterday, n***a, or do I look like a n***a that's elevating and escalating, n***a?"
He continued: "Let me drop another debut album at 46.' Get the f**k out of here. That is not me. That is for n****s that can only rap. F**k all that. I got bigger and better s**t that I'm gon' climb and try to climb and get to. I'm not no n***a that's trying to live no Throwback Thursday, man. If you ain't got no traction at all by a certain age and you still doing this s**t. Loser."
Gillie Da Kid's strong opinions toward those who he perceives to be old for the rap game come just about one week after the Philadelphia rapper-turned-podcaster reignited a longtime beef with fellow hip-hop media personality, Joe Budden.
After Budden threw a subliminal shot at Gillie implying that Million Dollaz Worth of Game doesn't bring in the same type of money that The Joe Budden Podcast does, Gillie Da Kid came directly at the "Pump It Up" MC claiming that due to his "washed up rap career," Budden is looking to start "podcast beef."
Watch Gillie Da Kid Claim There's an Age Limit for Rappers on 03 Greedo's Million Dollaz Worth of Game Episode Below
These Tone-Deaf Hip-Hop Moments Prove Rappers Can Get Hit With Serious Backlash
More From Power 102.9 NoCo - KARS-FM