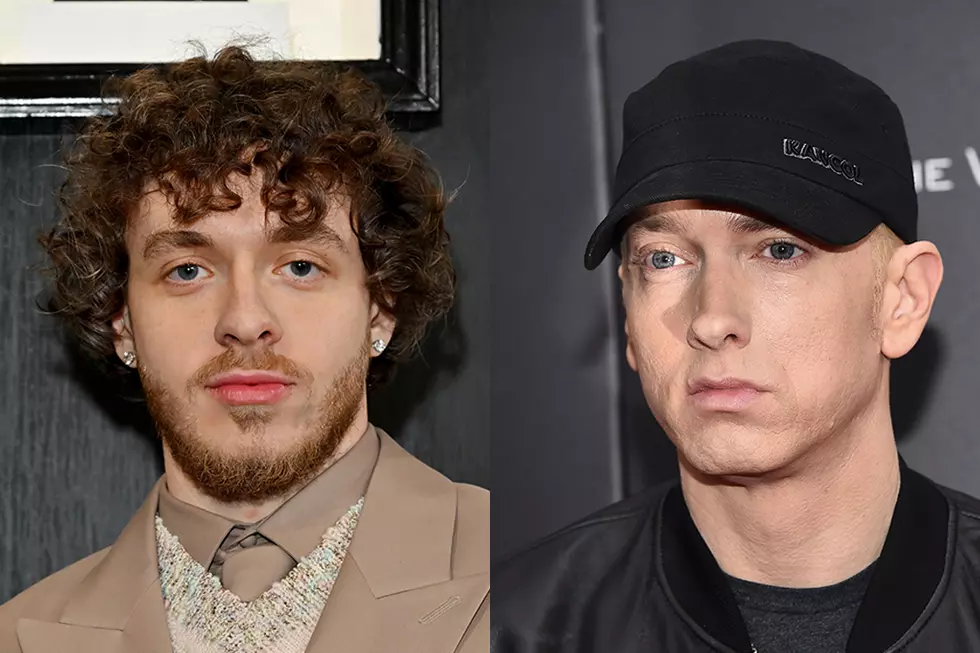 Jack Harlow Says He's the Hardest White Rapper Since Eminem
Amy Sussman/Michael Loccisano/Getty Images
Jack Harlow has officially crowned himself as the hardest White rapper since Eminem.
The proclamation was made on Jack Harlow's new album, Jackman, on the standout "They Don't Love It," which was released today (April 28). On the first verse of the springy Hollywood Cole-produced track, Jack spits, "Ya boy's strivin' to be the most dominant ever/The hardest White boy since the one who rapped about vomit and sweaters/And hold the comments 'cause I promise you I'm honestly better than whoever came to your head right then/They ain't cut from the same thread like him/They don't study, doin' work to get ahead like him/They don't toss and turn in the f**kin' bed like him."
In that, most dedicated rap listeners caught the reference to Eminem's 2002 diamond-selling record "Lose Yourself," where Slim Shady rapped, "His palms are sweaty, knees weak, arms are heavy/There's vomit on his sweater already, mom's spaghetti."
Jack's confident claim created quite a bit of controversy on social media. Some fans responded on Twitter by jumping to the defense of Mac Miller, who had risen up the ranks of respect among hip-hop fans before his death in 2018. Others brought up Action Bronson, noting the rap chef's unrivaled lyrical ability. And elsewhere, names like Lil Dicky, G-Eazy and Machine Gun Kelly filled up the comment sections of posts that spotlighted Harlow's statement.
Aside from the disputed bars on that track, Jackman—an effort 10 songs deep—was mostly met with positive reviews. Folks went on social media to even suggest that it was better than Jack's Grammy-nominated effort, Come Home the Kids Miss You, from last year.
In other news, Jack Harlow will likely have the people talking once again upon the reinvigorated version of the film White Men Can't Jump, set to drop on May 19. Harlow will star in the movie as Jeremy.
Listen to Jack Harlow's "The Don't Love It" Below
See Rappers Name Their Top Five Favorite Rappers of All Time
Drake, Kendrick Lamar, Lil Wayne and more.