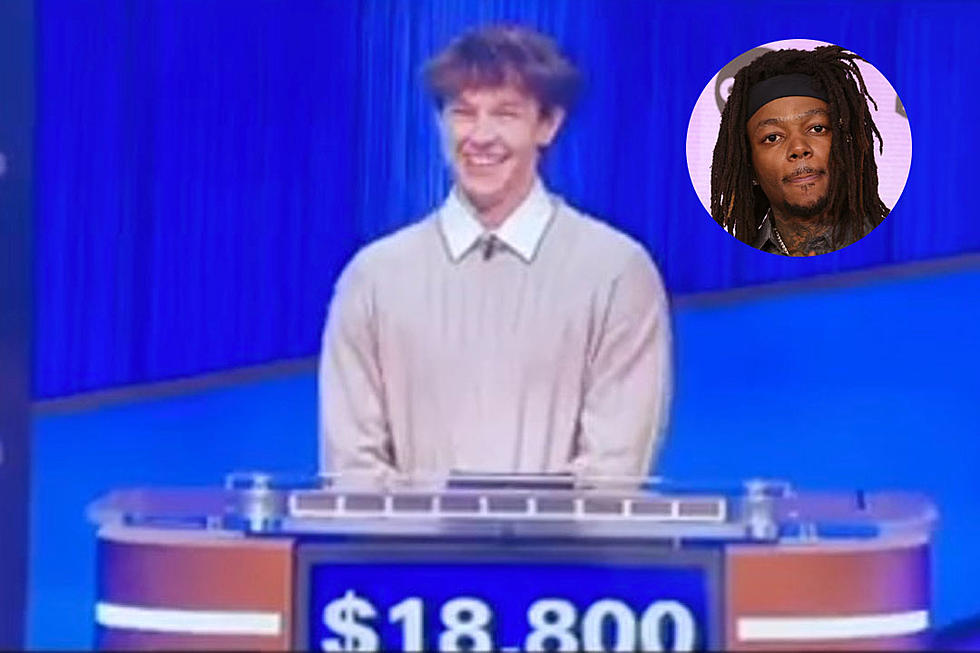 JID Reacts to Jeopardy! Contestant Answering Clue About Him – Watch
Jeopardy/Taylor Hill/FilmMagic
JID recently made a cameo on Jeopardy! Well, sort of.
On Thursday (Feb. 24), a new episode of the long-running game show aired. The episode featured the category "Fight Songs," in which the $2,000 clue was: "'Who the baddest. It don't matter 'cause we at your throat,'" this three-letter guy raps on 'Enemy,' his collaboration with Imagine Dragons."
Contestant Justin quickly beeped in and was unhesitant in his answer.
"Who is JID," he excitedly blurted out.
Even host Mayim Bialik noted Justin's elation. "That's right. You're excited," she said. You can watch the full clip at the bottom of this post.
JID later caught wind of being name-dropped on the famous gameshow and responded to the shoutout on Instagram, saying he wanted to locate the contestant, who is clearly a fan.
Sharing a screenshot of the clue from the show on his IG story, JID wrote "Dis crazy, we gotta find Justin."
In a follow-up post he wrote "JIDPARDY" under the logo of the gameshow.
Jeopardy! has a history of sliding in hip-hop and rapper-related clues, to mixed results, with some ending up going viral. Last Summer, a contestant confused Public Enemy with the short-lived 1990s group fronted by rapper-turned-actor Mark Wahlberg, The Funky Bunch. The crazily wrong answer even got a response from PE's Chuck D. One contestant went viral in 2016 for mispronouncing Tupac Shakur's name.
JID is currently on the last leg of his LUVIS4EVER Tour with Smino. The jaunt has stops remaining in Detroit, Chicago, Philadelphia, New York City and more.
See 50 Lyrics Rappers Got Wrong