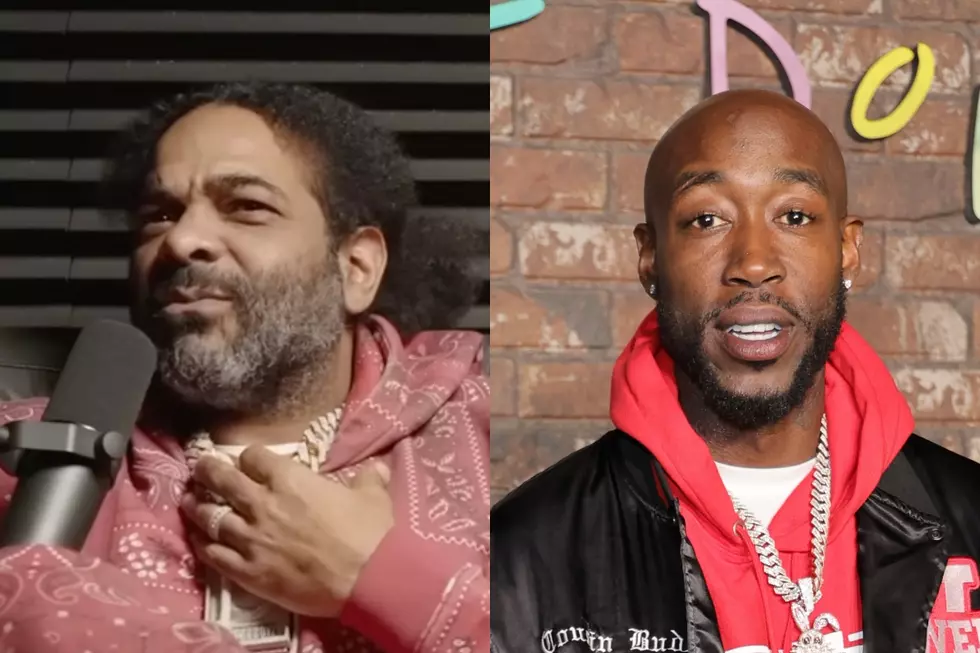 Jim Jones Denies Beating Up Freddie Gibbs During Very Entertaining Interview
QuietRoom/YouTube/Momodu Mansaray/Getty Images
Jim Jones is denying any knowledge of being involved in an altercation with Freddie Gibbs back in 2021.
On Jan. 28, Jim Jones was a guest on Queenzflip and DJ G Money's FlipDaScript podcast, during which Capo was asked to address the reports that his crew and Freddie Gibbs' crew got into a fight at Prime 112 restaurant on Miami's Ocean Drive.
"I did not put my hands on nobody in Miami, at all. I don't know what this nigga's talking about, bro," Jim Jones stated matter-of-factly. "If I did anything in today's era, we would all see it. Like they see anything else I do."
Upon further questioning, Jim Jones continued to deny having any knowledge of the reported fight.
"I haven't seen this. Is it on YouTube? I don't know what you're talking about," Jim responded.
Jim did admit that he had an issue with Freddie Gibbs, acknowledging that the Gary, Ind. rapper has dissed him in the past.
"I never did anything to this man. This is what I'm trying to figure out," Jimmy added. "I don't remember being in any restaurant and a fight broke out."
Back in December of 2021, eye-witness reports surfaced that Jim's crew had gotten the best of Freddie Gibbs and his security after the two exchanged words and someone in Jim's camp punched Freddie and a brawl ensued.
Gibbs later claimed no harm was done to him. Jim Jones then threatened to leak footage of the event after Gibbs downplayed the matter during an interview on The Breakfast Club last November.
Since then, Jim Jones has been a proponent of stopping the violence in hip-hop. On the other hand, Freddie Gibbs got into another physical altercation last May when he was attacked by Benny The Butcher associates in Buffalo, N.Y.
See Jim Jones Denying Getting Into a Fight With Freddie Gibbs Below
See 10 of the Shortest Beefs in Hip-Hop
Beefs within rap that ended quickly.
More From Power 102.9 NoCo - KARS-FM