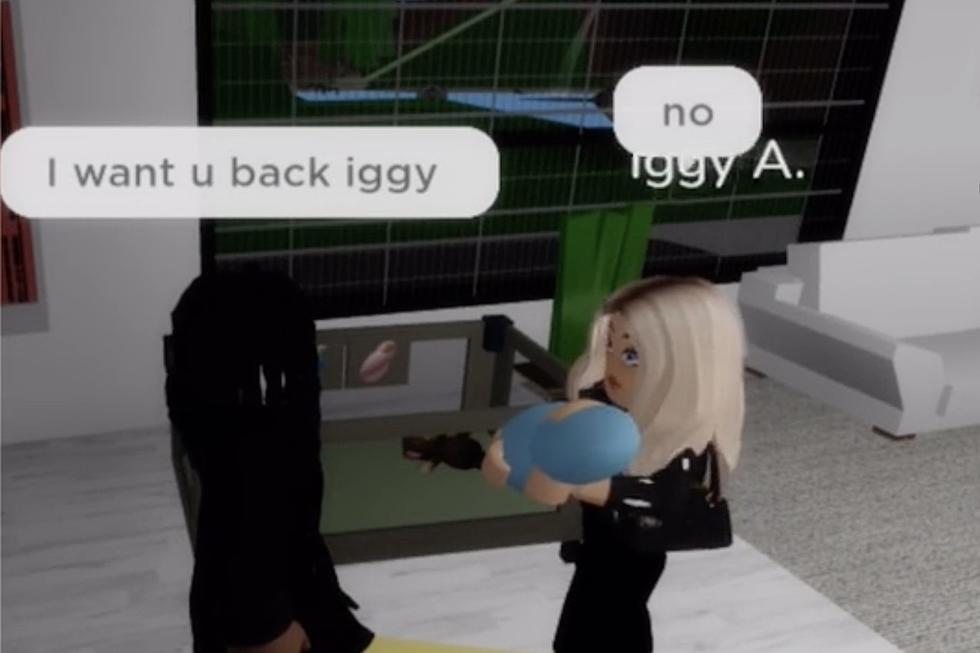 Someone Made a Playboi Carti Roblox Origin Story Involving Iggy Azalea and It's Too Funny
kingcarti1629/TikTok
A very creative fan made a Playboi Carti Roblox origin story involving Iggy Azalea and it's too funny.
Someone Made a Hilarious Playboi Carti Roblox Origin Story Involving Iggy Azalea
On Saturday (Aug. 26), TikTok user @kingcarti1629 created a Roblox video featuring Playboi Carti and Iggy Azalea. In the funny visual, Carti is hoping to rekindle his romance with the Aussie rapper who is the mother of their child Onyx. Iggy refuses his advances, which sends Carti into a depressive state. The clip segues into the Atlanta rapper as a Roblox character sitting in a forest all alone to him drinking liquor at a seedy bar. The video ends with Playboi Carti swimming in a pond with the tagline: "Will Carti Ever Drop???"
The tagline is a tongue-in-cheek reference among Carti fans who have been waiting three years for the rapper to drop his follow-up to his 2020 album Whole Lotta Red.
Playboy Carti and Iggy Azalea's Rocky Relationship
The Playboi Carti Roblox game appears to be a reference to the rapper's tumultuous relationship with Iggy Azalea. Back in February, during an interview on Emily Ratajkowski's High Low with EmRata podcast, Iggy made it clear that her relationship with Playboi is non-existent.
"Like, right after I had my son, I left his father," Iggy explained to Ratajkowski in the interview below. "Something happened one day with my son's father and me and it was just one of those moments where you're just like, 'I didn't wake up thinking this is what my day would be.' But by the end of the day, I was on a plane to Los Angeles and I never went back and that was the end of it."
Iggy said the relationship was already on the rocks before it ended.
"Don't get me wrong. We had a volatile relationship and you know that, you're not an idiot," she added. "You know when something's not working, I knew it wasn't working. But I also just had a baby, it was COVID. There were a lot of things to navigate for me at that time and I didn't think I'd be leaving when I left."
Iggy and Carti began dating in 2018 and share a son, Onyx, who was born in 2020.
Check out the Playboi Carti Roblox video below.
Watch the Playboi Carti Roblox Origin Story Featuring Iggy Azalea
https://x.com/scubaryan_/status/1695499753524461737
See the Rappers Who Claim to be Part of the Illuminati With No Proof Offered