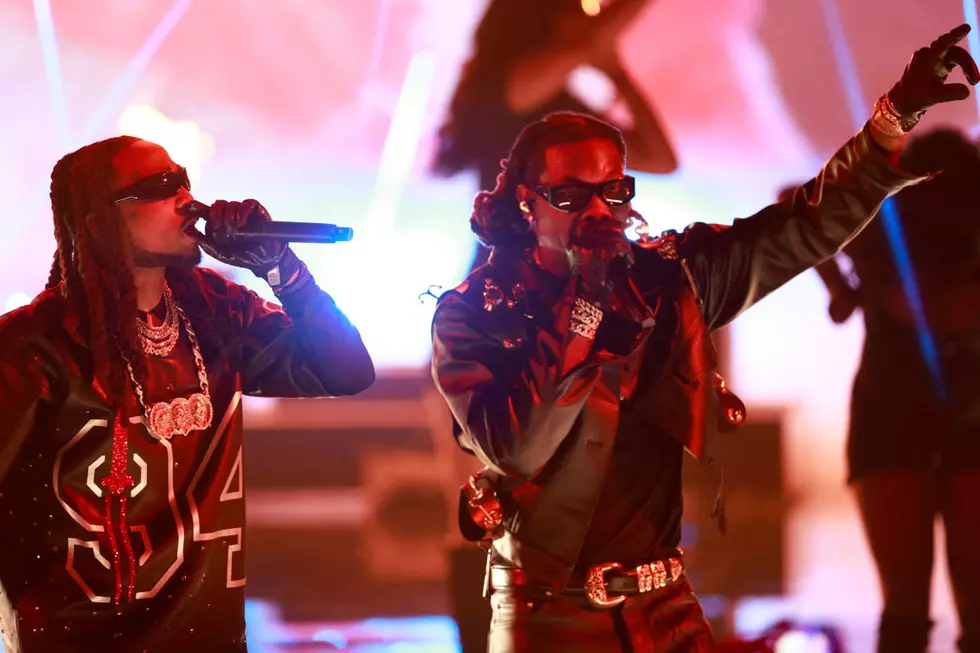 Quavo and Offset Reunite for Takeoff Tribute Performance at 2023 BET Awards – Watch
Michael Tran/AFP/Getty Images
Quavo and Offset reunited on stage for a tribute performance in honor of fallen Migos member Takeoff at the 2023 BET Awards tonight.
Quavo and Offset Reunite for Takeoff Tribute Performance at 2023 BET Awards
On Sunday (June 25), Quavo and Offset made history during a heartwarming live performance at the 2023 BET Awards at Microsoft Theater in Los Angeles. The two remaining members of Migos set aside their widely publicized differences to pay homage to Takeoff, who was tragically shot and killed late last year.
Quavo and Offset Perform "Bad & Boujee" in Honor of Takeoff at 2023 BET Awards
As Quavo and Offset's surprise tribute performance begins in the video below, the two rappers appear onstage dressed in all black as they stand on either side of a beaming spotlight. As a symbolic rocket ship ascends from the stage, a larger-than-life image of Takeoff is revealed as the stage's main focus.
From there, Takeoff's highly regarded verse on the Migos' 2017 smash hit "Bad & Boujee" featuring Lil Uzi Vert blares throughout the theater before Quavo and Offset take the mic and continue performing the song as large pyrotechnic flames engulf the stage under Takeoff's image.
Takeoff's Tribute Performance follows Quavo and Offset's Reunion for the Late Rapper's Birthday
In what was surely the biggest feel-good moment of the night at the 2023 BET Awards, Quavo and Offset's tribute to Takeoff comes just one week after the two rappers were spotted together for the first time since the fallen Migos member was murdered in November of 2022.
Last weekend, Quavo and Offset were both in attendance as friends and family gathered in a park in Atlanta to celebrate what would have been Takeoff's 29th birthday.
Watch Quavo and Offset Reunite for Takeoff Tribute Performance at 2023 BET Awards Below
See All the Rappers on the 2023 BET Awards Red Carpet