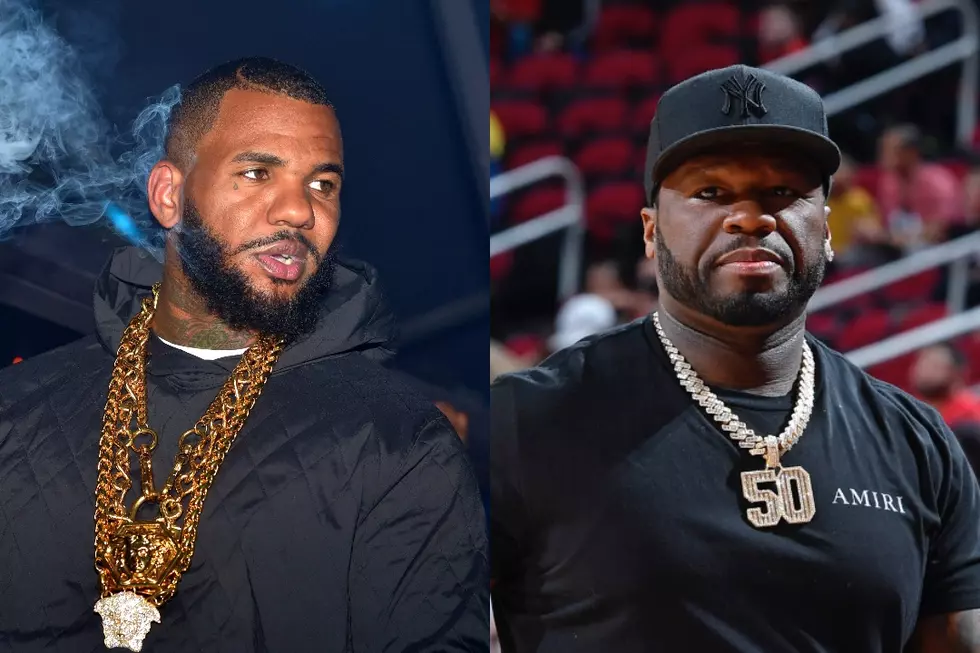 The Game Trolls 50 Cent for Throwing a Microphone That Hit a Woman
Prince Williams/Logan Riely/Getty Images (2)
The Game is trolling 50 Cent for throwing a mic that injured a concergoer during Fif's recent show in Los Angeles.
The Game Weighs in on 50 Cent's Viral Mic-Throwing Incident
On Thursday (Aug. 31), The Game offered his two cents on 50 Cent unintentionally hitting a fan with a microphone during his The Final Lap Tour concert in Los Angeles on Wednesday night (Aug. 30). The Compton, Calif. rapper took the opportunity to troll his nemesis. Sharing a video that features clips reporting on the viral incident on his Instagram Story, Game wrote under the post, "Curtis yo fat ass came to L.A. hittin women," along with a thinking face emoji.
50 Cent's Mic-Throwing Incident
50 Cent made headlines this morning after video showed him throwing a microphone off stage in frustration due to technical difficulties. The mic hit a radio personality who was standing in a restricted area. The victim suffered a laceration to her head and reportedly filed a battery report with the Los Angeles Police Department.
50 Cent's attorney Scott Leemon has released the following statement to XXL in concern to the incident.
"Let's be very clear, as I told LAPD this afternoon, my client Curtis would never intentionally strike anyone with a microphone," the statement reads. "Anyone saying something different doesn't have all the facts and is misinformed.
Check out The Game trolling 50 Cent for throwing a mic that injured a fan below.
See The Game's Post Trolling 50 Cent for Hitting Fan With Mic at Concert
See Wild Rap Beefs That'll Probably Never Be Resolved
Pusha-T and Drake, YG and 6ix9ine, and more.