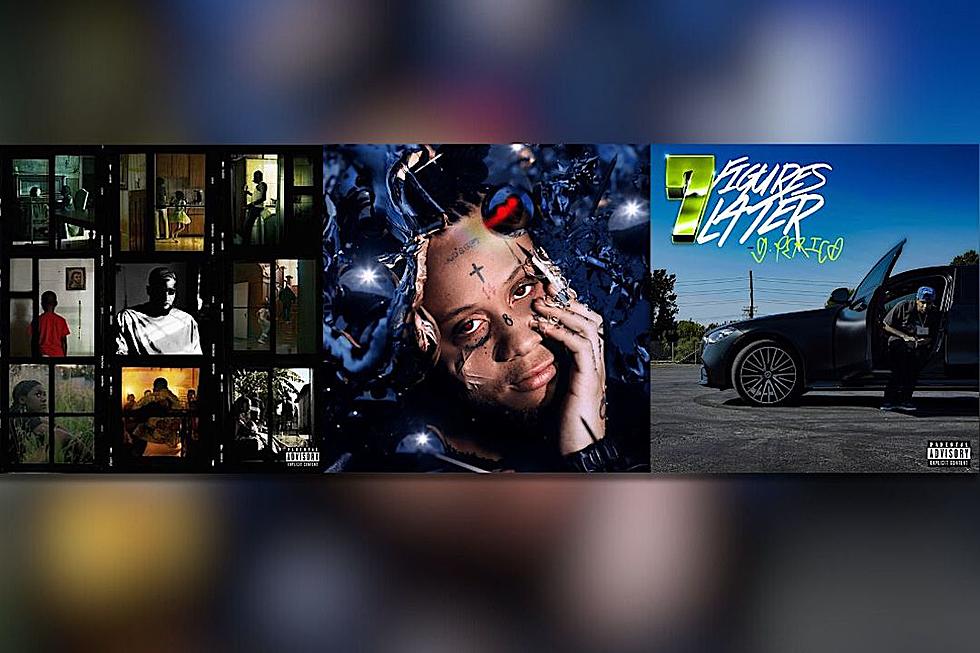 Trippie Redd, Reason, G Perico and More – New Hip-Hop Projects
Top Dawg Entertainment/1400 Entertainment/10K Projects/Perico's Innerprize, LLC/Empire
One of the ways hip-hop is celebrating its 50th year in existence is by delivering a fresh crop of new project drops. On the day that marks five decades since DJ Kool Herc birthed the culture in a tiny rec room in the Bronx, an Ohio rap-crooner releases his second album of the year, a Los Angeles spitter delivers a new project to capitalize on what's been an incredibly productive year so far, a lyricist repping Carson, Calif. comes through with a long-awaited LP and more.
Trippie Redd Drops Second Album of 2023, A Love Letter to You 5
On the heels of Mansion Musik, which, since its January release, has been lauded as one of the best hip-hop projects of 2023 so far, Trippie Redd comes through with A Love Letter to You 5. Arriving one week late due to some apparent sample clearance issues, the latest iteration in Trippie's ALLTY is an emotion-filled 19-track project that sees guest appearances from the likes of Lil Wayne, Roddy Ricch and The Kid Laroi, among others.
Prior to its release, A Love Letter to You 5 was previewed by the singles, "Last Days," "Left 4 Dead" and "Took My Breath Away" featuring Trippie Redd's ex-girlfriend, Skye Morales, which has already been streamed five million times on Spotify. Ironically enough, the love-themed LP comes just three days after Trippie Redd publicly apologized to Skye for being unfaithful in their relationship.
TDE's Reason Puts Out New Album Porches
With his sophomore studio album, Porches, Reason looks to solidify himself as the best lyricist currently signed to Top Dawg Entertainment. With impeccable storytelling abilities, the Carson, Calif. MC delivers a 19-track opus he describes as being all about "love and understanding" at a time in his life when he needs those things the most.
Led by two previously released singles, "At It Again" and "You Betta (Jesus Take the Wheel)," Porches includes features from TDE labelmates Doechii and SiR as well as Kalan.FrFr and Junii, among others. In a recent interview with XXL, Reason described the feeling he is striving to instill in fans with the album's lead single.
"It's an anthem," Reason says of the "At It Again" track. "It gives you that victorious feel. When you hear it, this is the part of the Rocky movie where he's running up the steps and he's trying to overcome that struggle. He done lost a couple of times. But he's getting ready for that last fight. This is the parade at the end."
G Perico Releases 7 Figures Later Album
Los Angeles rhymer G Perico is back with his new project, 7 Figures Later. The collection follows his Gangsta Grillz mixtape Hot Shot, hosted by DJ Drama, which dropped in March. Perch's last solo album, was South Central, released in December of 2022.
Check out G Perico's music video for his latest single "Pressure" below.
Check out other new projects this week from Joell Ortiz, Gloss Up, DJ Clue and Roc Nation and more below.
A Love Letter to You 5

Trippie Redd

1400 Entertainment/10K Projects

1400 Entertainment/10K Projects

Perico's Innerprize / Empire

Perico's Innerprize / Empire

glittergirlgloss/Instagram

glittergirlgloss/Instagram

Signature

Joell Ortiz and L'Orange

Heavy Heart Vol. 1

Joey Purp

Humble Soles

Roc Nation and DJ Clue

I No Longer Fear the Razor Guarding My Heel (V)

$uicideboy$

America's Most Wanted

D-RocYing

Still Servin' EP

600 Breezy

Defiant Presents: Jiggy in Jersey

Sha EK and Bandmanrill

Defiant Records/Warner Records

Defiant Records/Warner Records
More From Power 102.9 NoCo - KARS-FM