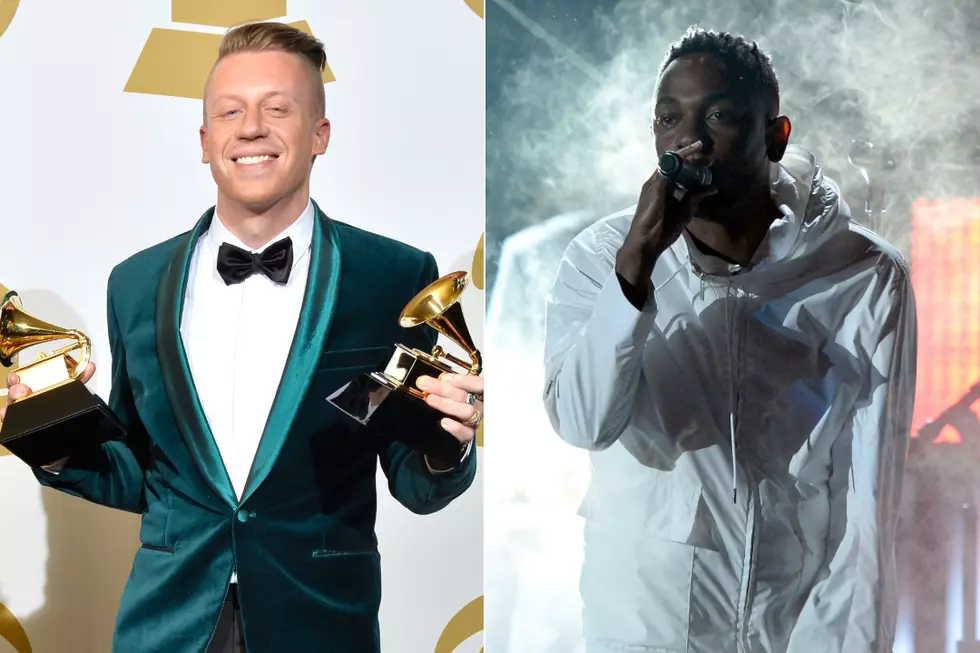 Kendrick Lamar Loses Best Rap Album to Macklemore at 2014 Grammy Awards – Today in Hip-Hop
Frazer Harrison/Kevork Djansezian, Getty Images
On this day, Jan. 26, in hip-hop history…
2014: Despite hip-hop being, for the most part, well-represented over the last award season or two, the rap game's overall relationship with mainstream award shows, specifically the Grammy Awards, has been a rocky one at best. But of all the upsets and disappointment that the genre has had to deal with throughout the years, not many mustered up as much controversy and social media uproar as the upset that happened at the 56th Grammy Awards on this very day back in 2014.
In a year that saw three of the hip-hop's most prominent figures, Kendrick Lamar, Drake and Jay-Z all nominated for a Grammy in the Best Rap Album category, the entire game was shocked when it was announced that the gold-plated gramophone would be going home with Macklemore & Ryan Lewis for The Heist, as opposed to Kendrick Lamar for good kid, m.A.A.d city, the album that many industry insiders and fans alike deemed as the category's front runner.
The parallels between to the two hip-hop acts that night didn't stop at the Best Rap Album category. In fact, both acts were nominated for seven Grammy Awards in 2014, four of which saw them directly competing against each other in the same category -- Best Rap Performance, Best New Artist, Album of the Year and the one that resulted in all the controversy, Best Rap Album. Of those nominations, Macklemore & Ryan Lewis won both Best Rap Performance and Best Rap Song for "Thrift Shop," Best New Artist and ultimately, Best Rap Album for their album, The Heist. Through all of that, Kendrick Lamar was completely snubbed, leaving the 56th Annual Grammy Awards empty handed. With that, the hip-hop community was immediately up in arms.
Hordes of hip-hop heads took to social media to rant about the "Swimming Pools (Drank)" rapper's loss at the popular awards show, and they weren't the only ones. Veterans of the game, like Q-Tip and Royce da 5'9'', as well as artists like YG and Kendrick's TDE label-mate ScHoolboy Q all made it clear that in their collective opinions, Lamar was more deserving. Even Macklemore himself went on record to say that he felt as though Kendrick was robbed. The next day, he made a post on Instagram in which he shared a text he sent to K. Dot to express his thoughts about the situation, accompanying the screen shot with, "He deserved best rap album. I'm honored and completely blown away to win anything, much less 4 Grammys. But in that category, he should have won IMO."
For his part, K. Dot didn't necessarily appreciate Macklemore's gesture, eventually citing that the IG post was "uncalled for." Despite that statement, however, the TDE artist took the L in stride, offering praise for what Macklemore accomplished. "It's well deserved; he did what he did, man," Kendrick said in an exclusive interview with XXL. "He went out there and hustled and grinded. Everything happens for a reason; the universe comes back around, that's how it go."
In all honesty, if Kung Fu Kenny wasn't so "HUMBLE," and did in fact feel some type of way about the outcome, he probably would've been justified. At that point in time, good kid, m.A.A.d city, which was K. Dot's major label debut, was one of the most revered rap albums of the last 15 years and was certified platinum in less than a year after its release.
That's not to say, however, that the Macklemore & Ryan Lewis project, The Heist, wasn't deserving of accolades. When you consider that they managed to pull of the rare feat of going gold without the help of a major label, and the fact that the album had tracks like "Thrift Shop" and "Can't Hold Us" that made the Seattle duo a Billboard Hot 100 mainstay, it really doesn't seem all that crazy that he could take home the award. It's just many people thought it belonged to Kendrick because he's viewed as the quintessential hip-hop artist, as opposed to Macklemore & Ryan Lewis, whose music tends to lend itself to more into the pop world. As a matter of fact, just a few days prior to the awards show, it was reported by an unnamed source that the Grammy Awards Rap Committee that there were plenty of talks leading into the event that the duo shouldn't even be included in the rap category. "It's not that they don't think he's a rapper," said the source. "It's just that when you're trying to protect categories and someone has become popular, it should be judged as much... Where does their music exist? Who are their fans?" The rap committee felt that Macklemore & Ryan Lewis shouldn't qualify in the genre because "of their success on mainstream radio and their appeal in the pop world." But in the end, they were included and won, thus sparking the controversy that sent waves throughout hip-hop.
When asked if he thought the Grammys undervalued hip-hop as a whole, Kendrick told XXL, "I definitely feel like they should always have more of the culture up in there, for sure, because we definitely stand out just like any other genre," the TDE rapper said. "We part of the world. We part of the movement. So I think any awards, including the Grammys, should always push for more hip-hop because it's music as a whole, it's not just splitting different regions. Everything moves as far as sound and vibrations, and that's how it goes. And we are a part of that."
While in that moment in time, it seemed like Kenny was just another widely-revered rapper among names like Snoop Dogg and Nas, who've also been overlooked by the industry's most popular award show, he would end up making up for the 2014 losses ten-fold. The Compton superstar would go on to win his first two Grammy Awards the following year, paving the way to earn himself 12 total Grammys over 37 nominations to date. The Pulitzer Prize-winning artist has also been responsible for some of the best live performances in Grammy Awards history. Macklemore & Ryan Lewis haven't won a Grammy as a duo since. Perhaps the fitting phrase to define it all is, "Poetic Justice."
See Photos of Kendrick Lamar's Different Looks Over the Years
More From Power 102.9 NoCo - KARS-FM