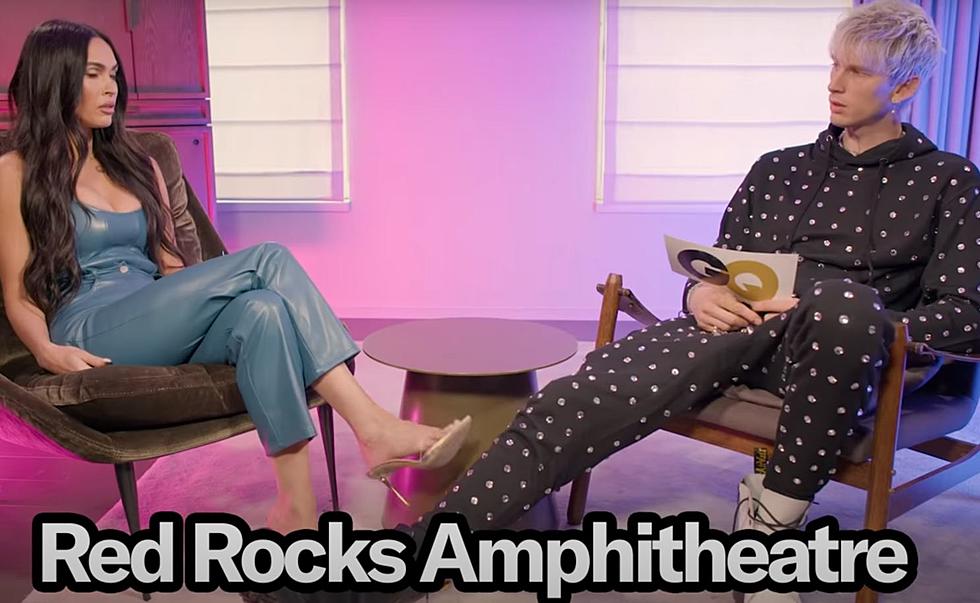 Machine Gun Kelly Says He Felt Spiritual Presence of His Aunt at Red Rocks
GQ
During their GQ 'Couples Quiz,' Machine Gun Kelly and girlfriend Megan Fox sat down to answer 40 questions about each other. During which, Machine Gun Kelly reveled why Red Rocks Amphitheatre in Colorado is one of his favorite venues. 
The rapper-turned-pop-punk-chart-topper was just in Denver at the iconic amphitheater on October 18. And, it seems like it was a drama-free event compared to some of his other recent shows, ya know, since that whole Slipknot thing. But just days prior to that, Fox guessed Machine Gun Kelly's favorite venue during the GQ interview.
'What's my favorite show I've ever played?' Machine Gun Kelly asked Fox, who replied, 'I don't know, I bet Red Rocks is one of them.'
Machine Gun Kelly replied, 'Yeah, I mean obviously Cleveland hometown stuff is a go-to for me, but yeah.'
However, MGK's fondness of Red Rocks wasn't because of the reason most artists give the venue high praise.
'Like, the last time I did Red Rocks, it was Juice WRLD opening, and I was closing, and I felt when I went on stage, I could feel my aunt's energy come down,' Kelly explained. 'And she was with me on that show. I was dreaming that she could see me play there, but she passed before she could. So that was cool like, feeling her there that night.'
That question was the very last one of the 40, so if you want to skip to it, start around 14:20. You can also watch the entire 'Couples Quiz' from GQ, below.
Most Memorable Fort Collins Concerts
UP NEXT: Celebrity Sightings in Northern Colorado
More From Power 102.9 NoCo - KARS-FM