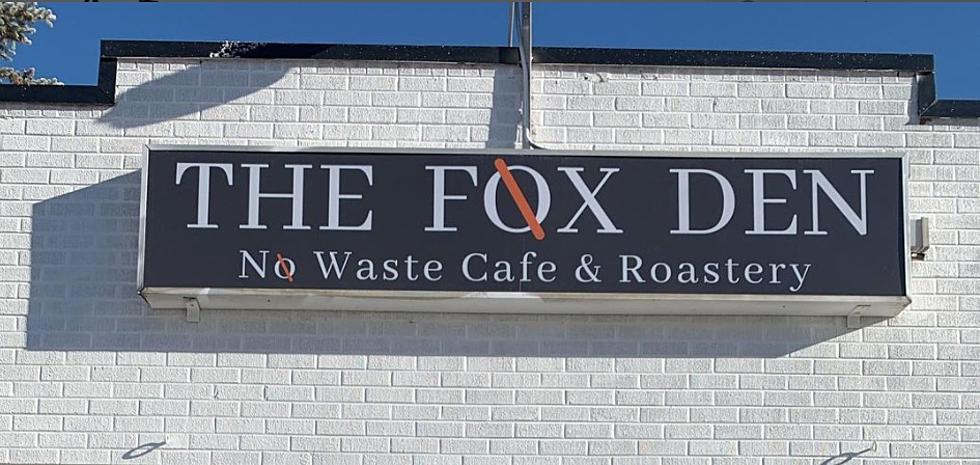 New No-Waste Coffee Shop Opens In Fort Collins
The Fox Den/Instagram
Waste no time checking out the newest - and arguably, most unique - coffee shop to hit the Fort Collins food + drink scene.
Introducing, The Fox Den 
The Fox Den: No Waste Cafe & Roastery opened earlier this month at 1680 Laporte Ave. in Fort Collins.
As its name suggests, The Fox Den is dedicated to operating in the most waste-efficient way possible. To do this, the coffee shop serves its coffee, tea, beer, wine, and other beverages exclusively out of reusable glass jars or mugs, The Fox Den founder Patricia Acheson told the Coloradoan on Tuesday (Mar. 29).
The space where the coffee shop operates today was completely gutted and revamped to become what it is today, as the building had been formerly home to the Micromat Laundromat, which permanently closed and vacated its space about four months before Acheson spotted the empty storefront during a bike ride around town last year.
Meant to be: Patricia Acheson, an Indianapolis native, who moved from California to Fort Collins with her fiancé last summer, had big dreams to open a coffee shop like The Fox Den for years.
According to the Coloradoan, before venturing to Fort Collins, Acheson had opened a coffee roastery and wholesale business in San Francisco and, later, a grab-and-go cafe in San Pedro, California.
"But I've always wanted to actually have a shop where people can come and sit and work, hang out," Acheson told the Coloradoan.
According to Acheson, customers who come in to enjoy a drink at The Fox Den have their pick at a wall of mugs to sip their beverage in.
(I know what you might be thinking - how could this be sanitary? Well, Acheson says all mugs and jars are sanitized before being used.)
As far as to-go drinks are concerned, those who'd like to enjoy a tea, coffee, or latte beyond the cafe property have the option of either bringing their own jar or travel mug or paying a deposit for one of the shop's to-go jars; cold drink jars cost $1 and $1.50 for hot drink jars that are fitted with a fabric sleeve.
The cafe's to-go jar deposits are also refundable when customers bring them back, Acheson told the Coloradoan. 
What's more? The Fox Den is also equipped with a coffee bean refill station, stocked with freshly-roasted beans and stacks of jars for those who haven't brought their own.
Since its soft opening on Mar. 18, Acheson said the community response to FoCo's newest coffee shop has been "amazing."
"I have to give a lot of credit to this neighborhood," Acheson told the Coloradoan on Tuesday (Mar 29). "It feels like a Hallmark movie. Everyone is so nice and supportive over here."
Acheson says she hopes The Fox Den not only continues to carve out its space in the neighborhood but also in the no-waste movement.
"The main goal is ... showing (other businesses) that you can be successful by reducing your waste," she said. "I'm not trying to be the only place that does this. It would be awesome to get a trend going."
You can visit The Fox Den: No Waste Cafe & Roastery daily from 7 a.m. to 7 p.m.
For the latest cafe information, check out The Fox Den's Instagram here. 
10 Fort Collins Restaurants Highly Rated on TripAdvisor
Can't decide where to eat in Fort Collins?
Allow us to assist - Check out the top 10 highest-rated restaurants in The Choice City, courtesy of TripAdvisor.
5 Fort Collins Wine Bars To Visit On National Wine Day - Or Any Day, Really
Friday, February 18th is National Wine Day.
Whether you're looking to taste, sip, or full-blown drink, here are five wine bars in Fort Collins to visit to celebrate today's national holiday - or any day, really.
More From Power 102.9 NoCo - KARS-FM