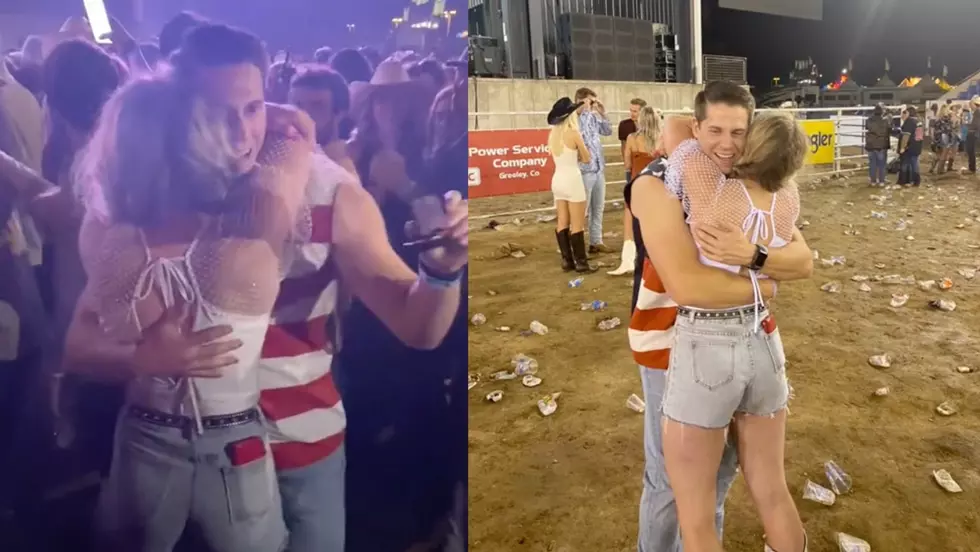 Surprise Proposal During Greeley Stampede Concert Is Going Viral
@theoriginalgirlscout/TikTok
Ah, young love - isn't it a beautiful thing?
From Thursday, June 23, 2022, to Monday, July 4, Northern Colorado celebrated the 100th anniversary of the Greeley Stampede - Colorado's premiere 10+ day summer western celebration featuring a concert series, a PRCA rodeo series, an American Bullfighting event, Demolition Derby, a large carnival, tons of food, vendors, children's activities (hello mutton bustin'!) and so much more.
While the Greeley Stampede brings thousands together each year to celebrate a series of occasions, two concert-goers during the 2022 Greeley Stampede got the chance to celebrate one of the most significant occasions life has to offer in an unbelievably epic moment that has since gone viral.
WATCH: Girl Is Brought To Tears From Surprise Proposal During Greeley Stampede Concert
On Friday, July 1, 2022, Jon Pardi took the stage in front of thousands to play a show at the annual Greeley Stampede.
Little did the singer realize the show would be (briefly) stolen from him as heads turned away from the stage and into the crowd to witness a young couple's surprise proposal: 
TikTok user @theoriginalgirlscout shared video footage from the incredibly sweet moment on the popular social media platform, which helps visually break down each moment that led up to the epic proposal during Jon Pardi's set on Friday night:
The footage above via TikTok begins with clips of the bride-to-be, who seemingly (clearly) has no idea her life is about to change forever; she and her besties are getting ready to go to the Greeley Stampede for the Jon Pardi concert... at least, that's what her friends wanted her to believe.
At the Stampede, video footage shows the group of friends getting ready for the concert with some pre-show drinks, smiles, and good times before ultimately heading into the concert venue to assume their positions for the show.
The lovebirds were caught on video dancing and loving on each other throughout much of the show, but one particular moment during Jon Pardi's set made for the sweetest moment of all.
During his July 1, 2022, show, the country artist performed his song "Head Over Boots" whose lyrics at one point go on to say:
"The way you sparkle like a diamond ring
Maybe one day we can make it a thing"
As those lyrics were being sung, this young man was preparing to get down on one knee and surprise the girl of his dreams with the proposal of a lifetime -
Based on the crowd's reaction, I think it's safe to say... SHE SAID YES! 
Congrats to the newly engaged lovebirds!
(P.S: If you know this couple personally, tag them in the comments below!)
Looking Back: The Most Memorable Concerts At Greeley Stampede
The Greeley Stampede turns 100 years old this year so we thought it would be fun to look back on some of the biggest shows and biggest stars to ever hit the Stampede stage over the years
10 Greeley Restaurants Highly Rated On TripAdvisor
Hungry in Greeley and can't decide where to eat?
Allow us to assist - Check out the top 10 highest-rated restaurants in Greeley, courtesy of
TripAdvisor.
More From Power 102.9 NoCo - KARS-FM