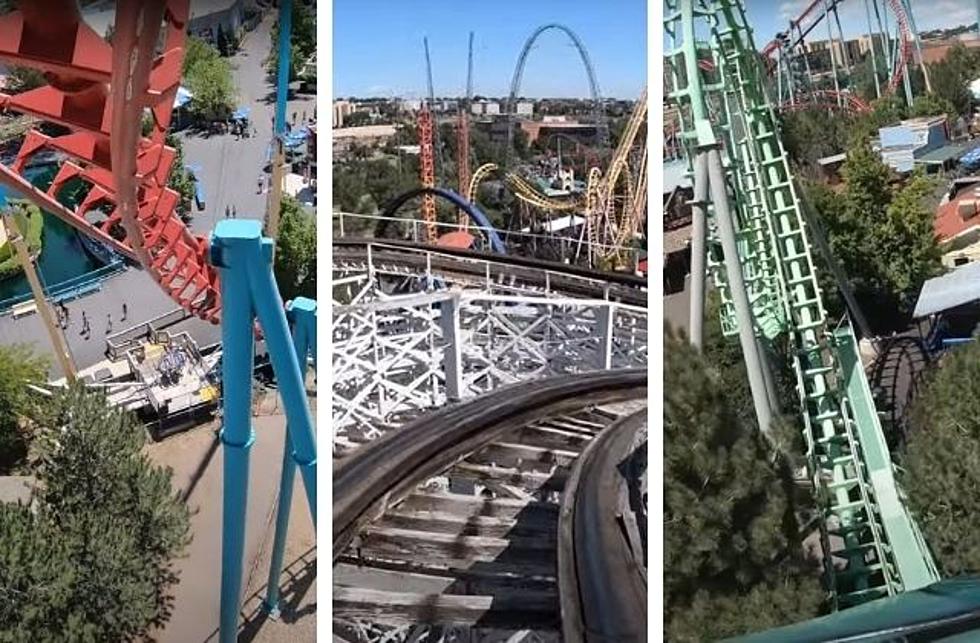 Take a Virtual Ride on Elitch Gardens' Most Famous Rollercoasters
ThemeParkHD YouTube
Elitch Gardens Theme & Water Park opened to pass holders last weekend, and the park will open to the general public on May 1.
Due to the pandemic, this summer is the first time that most of us will ride the attraction's famous rollercoasters in over a year.
Thankfully, three-hour lines might be a thing of the past, as the park is currently operating at an 18% capacity limit. But are we prepared to twist and turn at speeds over 50 mph after chowing down on funnel cakes again?
Consider this article to be your training. Thanks to technology, we have permanent reminders of what these thrill rides are like. Now, without further adieu, let's take a virtual ride on the most famous rollercoasters at Elitch Gardens:
1. Mind Eraser
The Mind Eraser is not for the faint of heart. Operating at speeds over 50 mph, the coaster suspends riders in the air before sending them through stomach-churning spins (pro tip: don't chug a Coca Cola before riding).
2. Sidewinder
The Sidewinder may only have one loop, but you get to experience it twice. According to Elitch Gardens, the coaster is "only one of three rides of its type left operating in the world."
3. Brain Drain
As one of the newest rides at Elitch Gardens, the Brain Drain is not your typical coaster. The attraction sends riders seven stories high in a 360° circle, which offers great views of the Rocky Mountains when you're not, you know...screaming.
4. Half Pipe
The Half Pipe takes skateboarding to a whole new level. According to Elitch Gardens, the 98.5-foot coaster is the tallest of its kind in Colorado — and it was the first of its kind built in North America.
5. Twister II
The Twister II is modeled after the original Twister that the park built in 1964. As a more traditionally-designed ride, the coaster is the longest in the park at 4,640 feet. Unfortunately, the ride is temporarily closed.
6. Boomerang
Like the Mind Eraser, the Boomerang propels riders forwards and backwards at speeds over 50 mph. With hills reaching 125 feet, it is the tallest coaster in Elitch Gardens.
7. Tower of Doom
Okay, this isn't technically a rollercoaster, but how could we not include the Tower of Doom? At 60 mph, the famous tower sends riders down an exhilarating 200-foot drop. However, the ride is temporarily closed, so your stomach is safe for now.
---
Feeling queasy yet? Don't forget to make a reservation before you enjoy Colorado's thrill rides again.
10 Tallest Buildings In Denver
More From Power 102.9 NoCo - KARS-FM