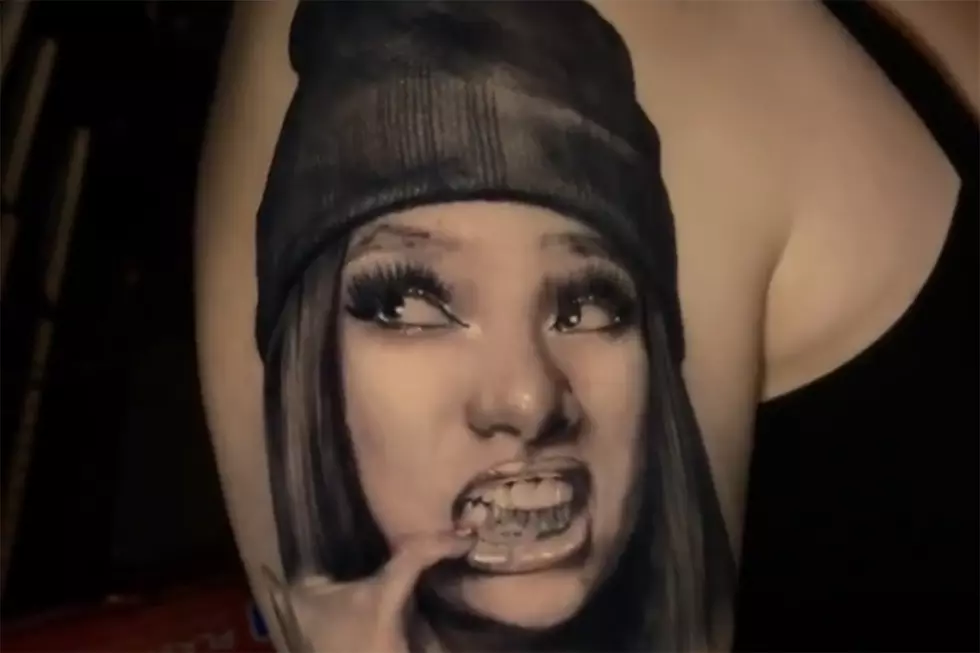 These Are the Extreme Ways Fans Pay Tribute to Rappers by Getting Tattoos of Their Faces
artofjondump via Instagram
Hip-hop fandom has only intensified over the years. People have gone from having posters on their walls of their favorite rappers to inking their bodies with their favorite artists' faces as a way of paying homage. And trust, the amount of folks who have rappers tattooed on their bodies might surprise you. In fact, XXL has created a pretty lengthy list to showcase the ways in which numerous fans are commemorating the artists they hold near and dear.
One woman, a mega-Eminem fan, has taken her adoration for the Detroit rapper to new heights. Nikki Patterson of Aberdeen, Scotland broke the Guinness World Record in March of 2020 for having the most tattoos of the same artist on her body. Altogether, she has 16 tats of Em's face and 28 tattoos of the MC overall.
The Scottish woman had her first tat of Eminem done when she was 16 years old. Nikki has artwork of Slim Shady decorating her arms, legs, chest and fingers. So essentially, she embodies Wiz Khalifa's song "Ink My Whole Body."
https://www.instagram.com/p/CE_63gwBnLa/
There's also the fan who caught Megan Thee Stallion's attention via social media about two years ago after she got Meg's face tattooed on her arm by North Carolina-based artist Jon Dump.
After the tattoo artist posted the tattoo of Meg on the @artofjondump Instagram page, Megan left a comment on the photo of the artwork that was done back in 2019. "WOW REAL HOT GIRL SH*T !!! I gotta find this hottie and do something special for you," Megan posted. The Houston-bred Hot Girl even reposted the tat on her Instagram at the time.
https://www.instagram.com/p/B2aXEuGA3OK/
For fans, rappers oftentimes provide therapy, positive vibes, an overall good time and more through their music and some loyal supporters have expressed gratitude by getting tats of these artists as a personal thank you. As extreme as this may seem, it happens quite often. Check out the extreme ways fans pay tribute to rappers by getting tattoos of their faces.
Gucci Mane's Ice Cream Cone

Jay-Z and The Notorious B.I.G.
More From Power 102.9 NoCo - KARS-FM