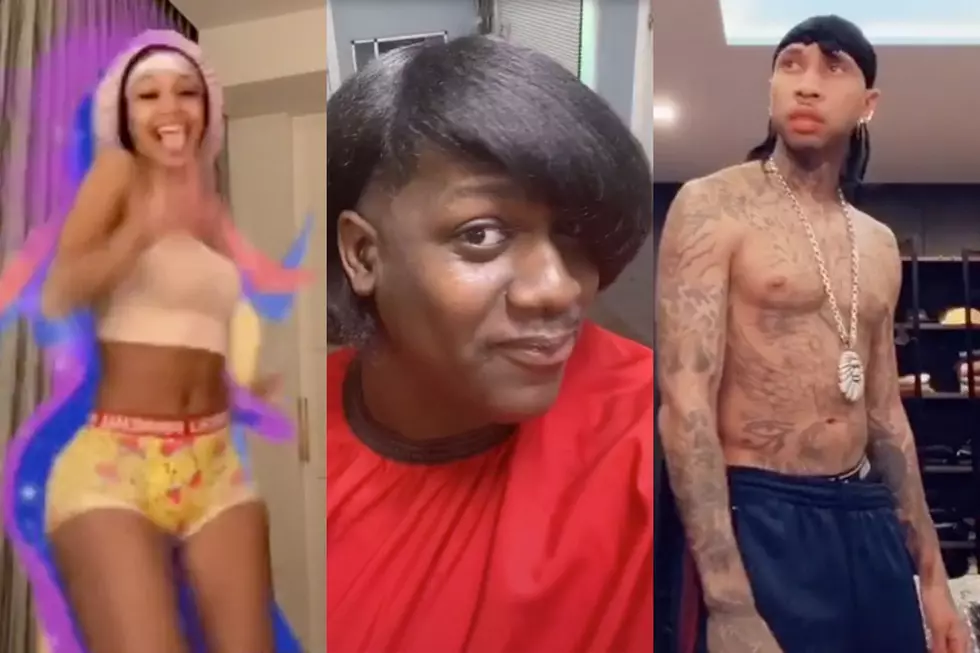 These Are the Most Entertaining Rappers You Need to Follow on TikTok
TikTok
TikTok is hot right now. And if you can't see that, it's surprising that you haven't been around any kids doing the myriad of TikTok dances to some of rap's biggest songs or witnessed fully grown adults sneakily scrolling on the app every day.
The short-form video-sharing social networking platform has blossomed into a huge tool for the music industry over the past few years. No matter the scale, from Drake to Saweetie, going viral on TikTok has proven that the platform holds an inimitable weight in the world of sound, arguably more than competitors like Instagram and Twitter. Once a song takes off on TikTok, the success is typically reflected on the Billboard charts. Lil Nas X's "Old Town Road," Megan Thee Stallion's "Savage (Remix)," Drake's "Toosie Slide" and 2020 XXL Freshman 24kGoldn's "Valentino" have all reaped the benefits of their tracks dominating on TikTok and subsequently climbing the Billboard charts—the first three artists even scoring No. 1 songs. But music aside, TikTok has propelled rappers to show off their knack for unique, cinematic storytelling and reveal a deeper look at their personalty in a way that interviews don't.
Take Lil Yachty for example, whose TikTok profile is a landmine of comedic gems. You probably remember seeing a viral video of him with a permed "bayang" circulating somewhere on your phone in early August. Once people peeped that the original post came from TikTok, Lil Boat's profile went from gaining the usual traction due to his funny clips to earning a major increase in views after going viral in the public's eye. And, boy, did people have a field day once they started going through everything else he posted in the months prior.
Same goes for Tyga, who has found a second life on the app as well. We all know his comeback when it comes to music, but off the mic, he's still winning by being one of TikTok's funniest and most creative personalities.
There are handfuls of rappers that have been able to flaunt their dope, innovative minds on TikTok, often amassing millions of views and followers. Though the app is widely popularity, it's also been at risk of disappearing as a result of President Trump threatening to ban the app. Hopefully that doesn't happen, but in the meantine, XXL highlights 10 rappers you need to be following on TikTok. Trust us, this is content you won't want to continue missing.
If you've come across Lil Yachty's TikTok recently, you've hit the comedic mother lode. The Atlanta rapper shines the most on this social media platform due to the fact that he doesn't have to front for the public about how light-hearted he is on the inside. He's carefree here, and as a result, his videos mold into gems that are often discovered weeks or months after they were created. From the hilarious viral "bayang" video to the footage of his guttural growl when opening a pack of rare Dunkaroos, Lil Boat's whole TikTok page will send you down a rabbit hole once you get into it. He keeps the content frequent too, so Yachty should get a follow.

Saweetie's TikTok page has more personality insight than any interview does. The page exemplifies the accuracy in her claim to being both classy and ratchet at the same time, with an equal mix of both in each video. When she's not successfully sparking internet challenges to extend the life of her music, as she did with her hit "Tap In," she's uploading clips of herself twerking in the crib with her homegirls, flaunting her athleticism and reminiscing on the crazy stuff she went through growing up, all while staying dolled up. What makes her profile dope is the fact that despite the fame, she's still a regular person at heart who participates in the same antics we do on a daily basis.

Tyga uses his TikTok profile in a unique way that often sets the tone for other artists. In fact, his posts are so amusing and original that they're often the ones that find life outside of the app and get reposted on Twitter and Instagram. With over 7 million followers, he understands the audience on the app and constantly finds a way to elevate what people are already resonating with. Like most people, Tyga has truly been bored in the house and in the house bored due to quarantine and the pandemic. But with this page, it's clear that he's found a way to use his time wisely, flooding the app with content you wish you came up with over these past few months. T-Raww has become one of the best personalities on TikTok, even outside of rap. If you don't believe us, just hit follow and see for yourself.

NLE Choppa is a straight character. His music is wildly energetic and never dull, as is his content on TikTok. On the platform, the thing you'll see the most is him dancing. And mind you, he has more than the dance moves that you'll probably try to stand up and replicate. In what seems to be a direct contrast though, he's actually a very peaceful person who meditates every day. For every video that starts off with screaming or alarming trap production, there's one to follow of him bending the weather like Storm from X-Men or simply giving life advice he's learned and used to create his own bible. Seeing both the ying and yang of such a combative artist is always interesting, fan or not.

Heard in her common "pop off now, ask questions later" kind of lyrics, it's evident that Young M.A doesn't play. However, her TikTok profile has become a beneficial instrument to contrast that. With over 1 million followers on her page, the Brooklyn-bred rapper appears to be far more bubbly than her fans might think, whether she's making skits about her girlfriend and pets, christening things in her house like Simba in The Lion King or setting Club Quarantine off in her living room. You'll simultaneously laugh and relate when going through her content. And profiles that adhere to those results are always top notch.

Wiz Khalifa and his son Sebastian essentially share a TikTok profile, giving people a glimpse of some of the most memorable and comedic father-son moments on the internet. You can see Wiz's love for music seep down into his son. And on the alternate side of that, you can see Sebastian bring out the youth in Wiz. Together, they make Wiz's profile scream the word joy as music from everyone including Hip-Hop Harry and Young Thug plays in the background of his videos. On this profile, you'll find the type of content that will brighten your day. Don't play yourself, we all need that diurnal joy at some point.

Alright, at this point, Blueface basically needs his own TV show. He managed to start his career by going viral, and still doest that to this day, even without the music. Similar to Wiz, his page features his son pretty often, showing off the fatherhood aspect of the rapper. But this is Mr. "Thotiana" we're talking about, so things rightfully get pretty wild as well (you'll see Blueface's son driving a vehicle on TikTok). Blueface might mess around and hit the Crip walk over any beat, use an accent to mess with someone at the drive thru or run around the house in a superhero costume. Either way, going through his TikTok is really like watching primetime TV. He has the type of natural content that make following him an entertaining W.

Rico Nasty's animated personality is supreme and consistent on all of her socials, but especially on TikTok. Once you stumble upon her profile, you'll get hit with an endless number of colors and sounds that will throw you for a pleasant loop. What makes for great content is the fact that her liberated aura is infectious. It's clear that she crossed the rocky bridge of judgement a long time ago. So she now elevates over it and takes pride in being an anomaly. From the reenacted viral skits to the cinematic tribulations of spiders running across the floor to the psychedelic visuals effects of her music videos, Rico Nasty's TikTok provides the allurement you could use to spice up your feed.

In order for Swae Lee to make the type of freeing music that he does, his personality has to be loose. Proof is on his TikTok page, where in between the previews of new music, he spontaneously records himself doing things like riding a bike standing up on the seat, pulling up to play basketball with his fans during a pandemic and dancing with his animated Snapchat character. Aside from his random daily activities, he also gives fans some insight on his creative process, recording footage of himself making beats and singing for people to witness. If you ever wondered what the mind of a hit-maker is like in real life, here you go.

Lizzo is basically the queen of TikTok. She hasn't dropped new music in a while and obviously there's been a halt on performances with the coronavirus pandemic, but she uses the platform and her profile as a stage nearly every day. Her dance skills are put on display most, while life advice, group skits and daily food updates fill up her feed. She goes viral on TikTok more than any other rapper. Why? Because everything she posts is raw, genuine and in good spirits. It's apparent she's comfortable here, which is admirable. There's definitely a TikTok moment featuring Lizzo for anyone to enjoy. Go ahead and find the one you rock with. It won't be that hard at all.
More From Power 102.9 NoCo - KARS-FM