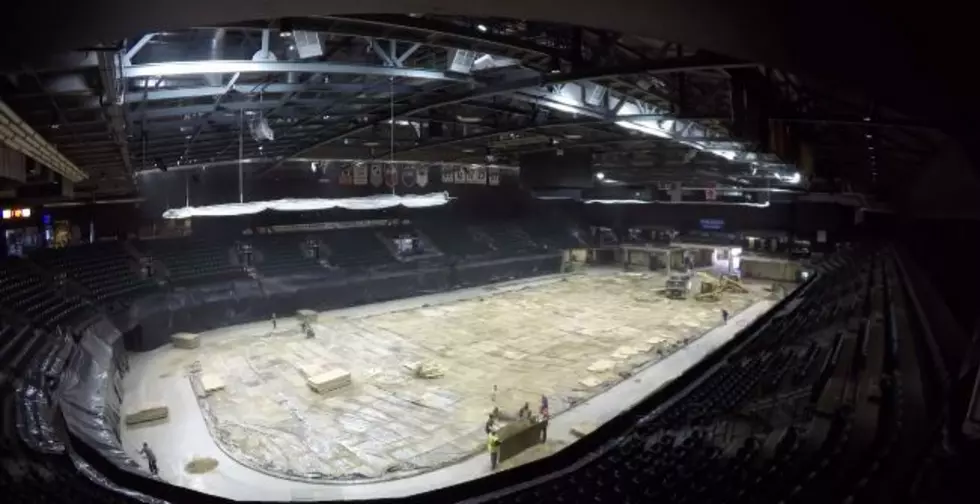 WATCH: BEC Transforms From Monster Trucks To Eagles Hockey
Facebook/ Colorado Eagles
The Budweiser Events Center has been standing tall high above Northern Colorado above Interstate 25 since 2003. It's been home to the Colorado Eagles along with so many different events from concerts to pro wrestling events, Harlem Globetrotters, circuses, and, most recently, monster trucks.
I've always been intrigued by how arenas transform from one event to another. While many other people seem to share that same curiosity, very few actually get to see the process in action, me included, so I thought it would be cool to see the transformation in a time-lapse video.
Thanks to the Colorado Eagles, after the Toughest Monster Truck tour wrapped up their shows at the Budweiser Events Center last week, the team posted the video showing the arena going from being covered in dirt and ramps for monster trucks to having ice and hockey boards put up in a matter of hours.
Don't worry, you don't have to sit through hours of video to see it happen. They put it together in a short time-lapse video.
Before we get into the transformation of the arena going back to hockey, let's first take a look at the transformation to the monster trucks show:
I can't imagine the amount of work that goes into these transformations but shout out to arena workers and officials for always having it ready for any and all events.
Well done.
31 Things That Make Loveland, 'Loveland'
7 Google Maps Images That Show How Much Loveland Has Changed
Can you answer these 10 Northern Colorado Jeopardy! Questions?
More From Power 102.9 NoCo - KARS-FM