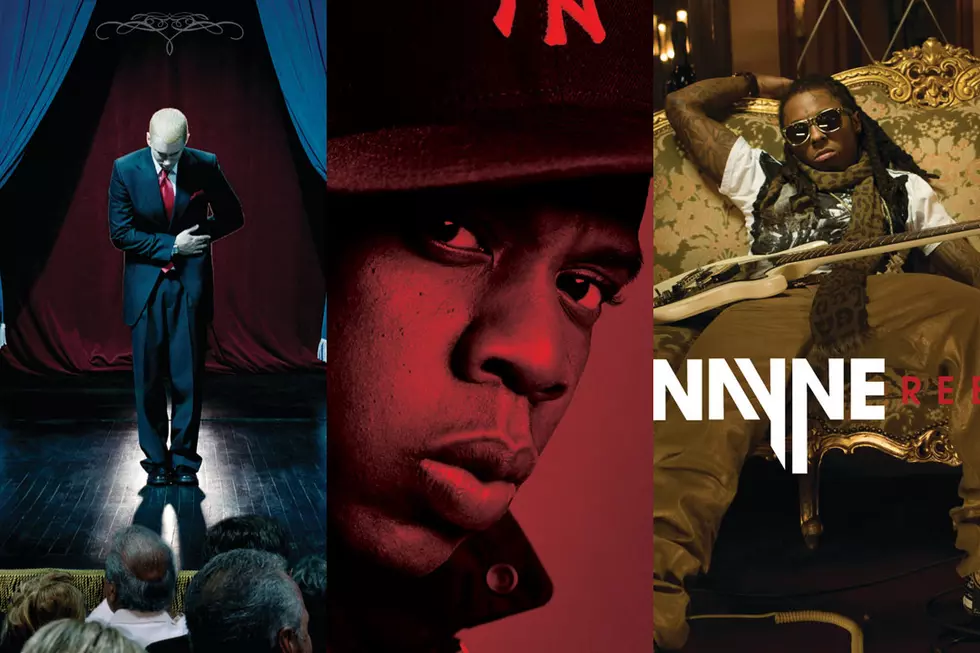 14 Weakest Albums by Great Rappers
Aftermath Entertainment / Interscope Records / S. Carter Enterprises / Cash Money Records
Building a lasting legacy in hip-hop is no small feat and takes time, skill and a focused attention on the details. Plenty of rappers are here today, gone tomorrow, and have ultimately ended their careers without reaching the upper echelon of the game. However, those who do find themselves in that realm all have one thing in common: multiple albums that are deemed classic that stand the test of time. A great album can also be an outlier for an artist who happened to strike lightning once and could never recapture that magic, but those who are able to rise to the occasion time and time again are held in the highest esteem.
These artists take great pride in living up to expectations that the fans and critics bestow upon them, carrying the burden like a badge of honor. However, even the most reliable artists have been known to turn in an album that leaves more to be desired, whether in terms of lyrics, production, concepts or other extraneous circumstances. Being that you're only as good as your last hit, artists rarely get a pass to drop a lackluster album, regardless of their stature. This results in a number of all-time great rappers having a demerit or two on their resume. Usually, those instances prove to be aberrations, with the artist returning to form on the subsequent album drop, but are rarely forgotten and are held against the artist by the public.
Eminem is one of the more seasoned rap vets who has at least three classic albums under his belt: The Slim Shady LP, The Marshall Mathers LP and The Eminem Show. However, Em's fourth studio album, Encore, showed the first signs of his regression. When it comes to Jay-Z, he's always been known for delivering a masterful body of work. He's considered to have a career in hip-hop akin to that of Micheal Jordan's in the NBA, whom he often compared himself to. When Hov decided to come out of retirement in 2006 with a new album, Kingdom Come, his performance was a far cry from his lauded lyrical past. Lil Wayne, another lyrical king who lands in many hip-hop heads' top 5 dead or alive, also experienced his own album blunder when the modern-day rock star tried his hand at the genre with his Rebirth LP. The effort proved Weezy's fan base wasn't too fond of his move to try something new.
From Eminem to Jay-Z to Lil Wayne and more, XXL scoured the catalogs of some of the greatest rap artists of all-time and found the weakest album that missed the mark. And they're still better than most other rappers' best albums. The diehard fans may still find a standard of excellence, but other hip-hip loyalists can agree these projects fall below the line of the other albums in these artist's catalogs. Check out 14 Weak Albums by Great Rappers below.
See 14 Weak Albums by Great Rappers
More From Power 102.9 NoCo - KARS-FM