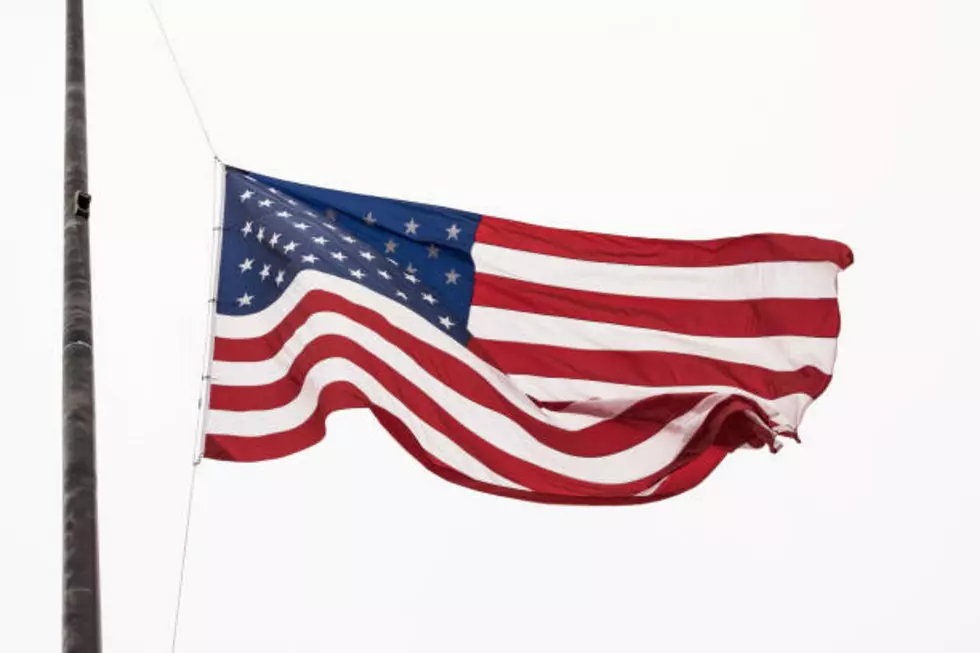 Why Are Flags At Half-Staff In Colorado Today?
Getty Images
You might've noticed that flags across the state of Colorado have been flying at half-staff today (Thursday, Nov. 10) - but why?
On Thursday, Oct. 30, Colorado House Minority Leader, Hugh Kean passed away suddenly from a heart attack; he was just 55 years old.
To honor his life and service to the state of Colorado, Gov. Jared Polis ordered flags across Colorado to be lowered to half-staff on Thursday.
"I am devastated to hear of Minority Leader Hugh McKean's sudden passing", Governor Jared Polis said in a statement, according to KDVR.
"A family man and a true public servant, Minority Leader McKean had a knack for making everyone feel like they were the most important person in the room. Minority Leader McKean cared deeply for his constituents, always had time for a conversation or a laugh, and truly worked every day to build a better future for every Coloradan.
As a dad myself, I can't imagine the pain his children and family are feeling at this difficult time. We are sending thoughts and prayers to all of Hugh's loved ones and take comfort knowing his legacy will be felt in Colorado for years to come," said Polis.
About Hugh McKean
Former Minority Leader McKean was elected to the Loveland City Council in 2009. Beginning in 2016, he served as a representative for Colorado House District 51 - which covers a portion of Larimer County including Loveland; in 2020, McKean was then elected to the Colorado House Republican Caucus.
"Hugh was fiercely passionate about two things in his extraordinary life; serving the great state of Colorado and spending time with his family, whom he adored — Aiden McKean, 21, Hanna McKean, 23, and his dearest partner and friend Amy Parks," Deputy Chief of Staff Roger Hudson said in a statement, according to KDVR. 
Remembering Hugh
On Thursday morning (Nov. 10), a memorial was held for Hugh at the state capitol. The ceremony was attended by the McKean family, and state legislators; remarks were made by Gov. Jared Polis, former Gov. Bill Owens, House Speaker Alec Garnett, and the newly elected House Minority Leader.
This weekend, on Saturday, Nov. 12, the McKean family will be holding a church and celebration service in Hugh's honor at Resurrection Fellowship Church - located at 6502 E. Crossroads Blvd. in Loveland, CO.
The service is open to the public.
Who Will Take Hugh McKean's Place?
According to the Secretary of State's office, a vacancy committee established by the Larimer County Republican Party will fill McKean's seat within 30 days. That person will serve a full two-year term.
13 Crazy Colorado Laws That Make No Sense
There are laws everywhere - a lot of them we know about and abide by every day. But, there are others I'm willing to bet you knew nothing about.
LOOK: These Are The 10 Best Zip Codes To Live In Colorado
Sure, there are many great places to live in Colorado - but they all can't be the best.
From rural to suburban to city living, Colorado has a little something for everyone; it's part of what draws people here to the state (and keeps natives living here, too).
Want to know where some of the best places to live in the state are? Keep scrolling to check out the 10 best zip codes to live in Colorado in 2022, according to
Niche:
More From Power 102.9 NoCo - KARS-FM