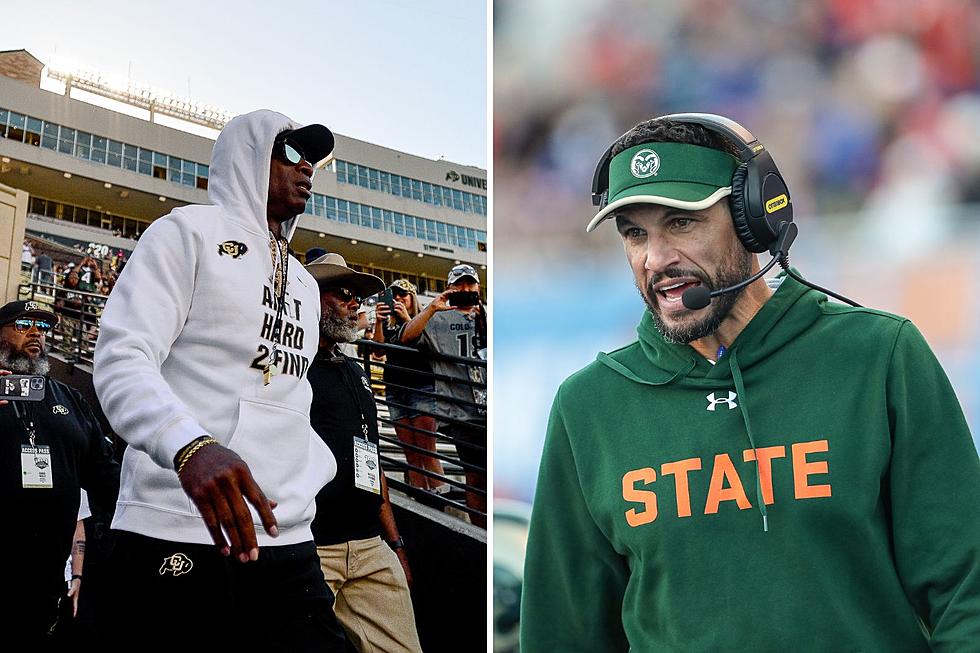 CSU's Norvell Calls Out Coach Prime Ahead of Big Gameday
Getty
"When I talk to grownups, I take my hat and my glasses off" is the quote or somewhat proverbial shot heard around the college football world as CSU Coach Jay Norvell sounds off on the upcoming matchup against in-state rival Colorado's Head Coach Deion "Primetime" Sanders.
Sanders has begun his first year with the Buffalos with a strong 2-0 start after shaking up the roster with a whopping total of 80 new players and his signature swagger.
This progressive and rather aggressive approach to his coaching and press conferences has rubbed other coaches the wrong way, including our own Jay Norvell, it appears from his quote.
Coach Prime has already been outspoken about the "personal" jabs and has used that to fuel his team with electric speeches that led to a rally against the Buffalo's conference rival Nebraska.
The Cornhuskers Head Coach Matt Rhule alluded to Colorado's player turnover during a press conference, which led to Sanders' son and quarterback Shedeur Sanders breaking up a team meeting held midfield on their logo pregame and firing shots again in a post-game interview.
"When you've got the whole team trying to disrespect it, I'm not going for that at all," said Sanders.
This begs the question of how will the Sanders family-led Colorado respond to the recent comments from Coach Norvell.
"It was just gonna be a good game, but they done messed around and made it.. personal," says Coach Sanders as he addressed his team during practice.
Colorado and Colorado State have long been left out of the conversation as competitors in the last several seasons. Yet CU has cracked the Top 25 while CSU was flattened in their opener.
One can hope that a recent quarterback change and the bravado of Norvell's comments can spark the Rams to an upset victory.
CSU Students Crush on These Craveable Fort Collins Restaurants
If a restaurant is full of college students, it's going to be good. So, why not turn to Colorado State University students the next time you need to grab a bite to eat? See the craveable Fort Collins restaurants CSU students are crushin' on in the gallery below.