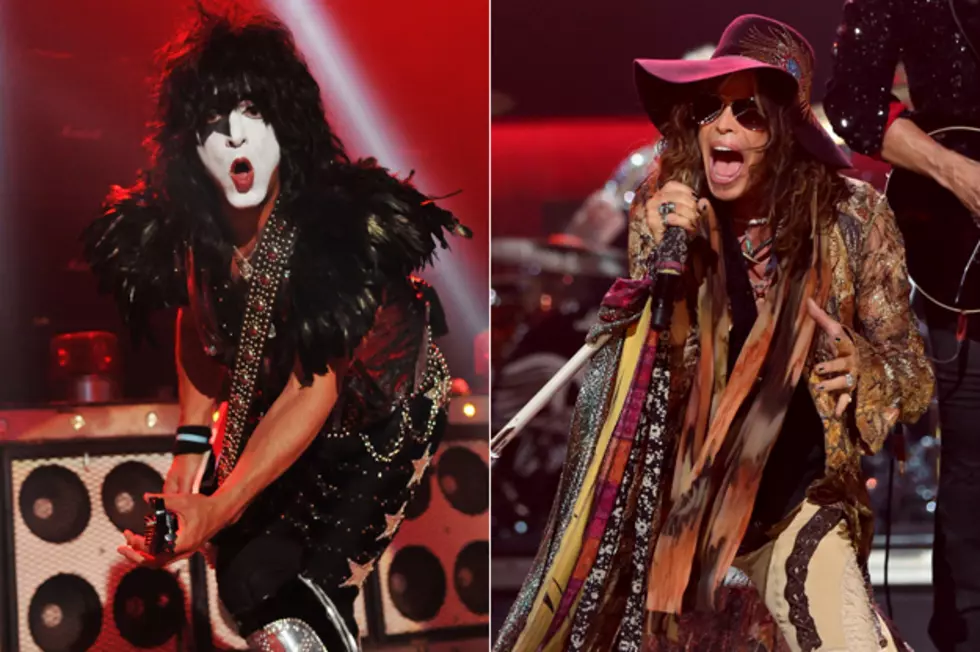 Kiss' Paul Stanley Says Aerosmith's Steven Tyler 'Needs a Reality Check'
Jim Dyson / Christopher Polk, Getty Images
Tyler was less than complimentary when asked about Kiss by a Tampa radio station last week. The Aerosmith vocalist stated, "They've got a couple of hits, but they're more, they're comic book -- you see them in their spackled faces. It is different -- a Kiss lick, a Joe Perry lick -- two different worlds, and sometimes depending on the time of day I get offended [by comparisons]."
The singer added that his opinion had been tainted somewhat by the fact that one of Kiss' crew members got into a knife fight with one of their roadies back in the '70s, but getting to know the band in recent years changed him mind somewhat. He explained, "Since then I've gotten to know Gene [Simmons] and Paul, and they're beautiful people."
Stanley responded Monday night (Oct. 15) during an appearance on Rockline (excerpted by Blabbermouth). The vocalist said, "Maybe Steven's feeling a bit full of himself because he has an album coming out … When [the Aerosmith] album comes out, let's put [it next to ours and] and let the music do the talking." Stanley is referring to his band's new album 'Monster,' which was released on Tuesday, Oct. 9.
The Kiss singer also recalled touring with Aerosmith in 2003, and added that Tyler had an attitude then as well. He recalls, "Steven insisted that they close the show. I really [didn't] care because one way or the other you have to come up onstage. [He] was looking down his nose a bit at Kiss. Seeing him come onstage to an underwhelmed audience and [seeing] people walking out [made me smile]."
Stanley concluded about Tyler's comments, "Steven may have been over-enthused and needs a reality check."
More From Power 102.9 NoCo - KARS-FM