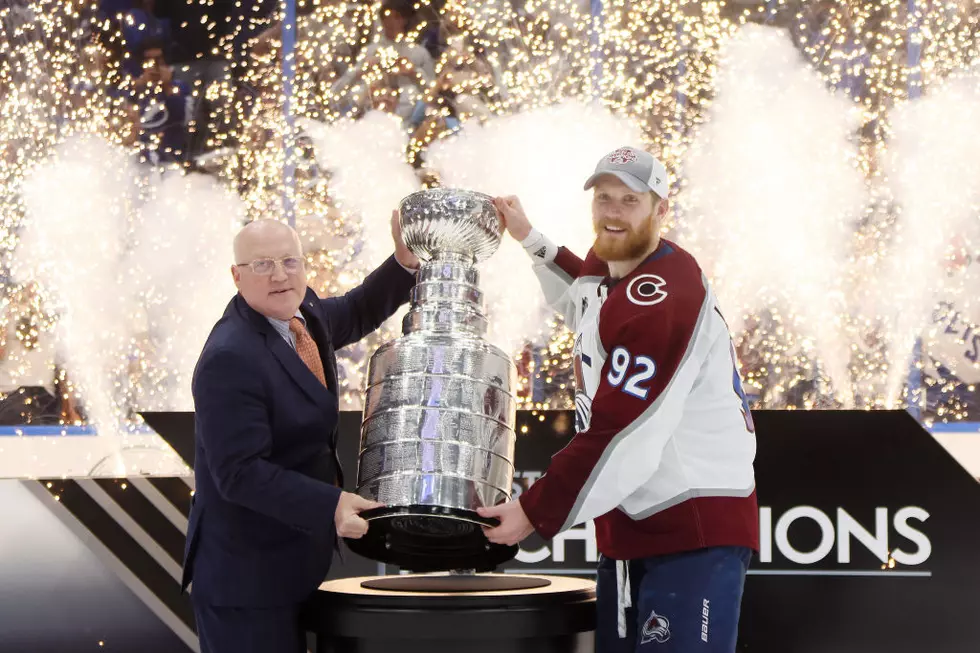 The Colorado Avalanche Win The Stanley Cup For Third Time
Getty Images
Congratulations to the Colorado Avalanche, who defeated the Tampa Bay Lightning 2-1 in game six of the Stanley Cup finals, to become Stanley Cup Champions for the 3rd time.
Colorado Avalanche Win Stanley Cup For Third Time
I remember the Avs' first season in Denver... I was 11, but I remember. That Stanley Cup run, in their inaugural season in Denver, was so, so special. Joe Sakic and company brought the first Major League Championship to Colorado. It was right then and there, that Denver was officially a "hockey town." The Avalanche would prove their greatness again in 2001 when they won their second Stanley Cup Championship and brought "Lord Stanley" back home to Colorado. Since then, it's been a rough road, including three seasons where we placed dead last in the NHL. The last time that happened way 5 years ago... I guess you could say Avalance General Manager and Head Coach Jared Bednar turned things around, yeah?
After defeating the back-to-back defending Stanley Cup Champion, Tampa Bay Lightning, in game six of the 2022 Stanley Cup Finals, your Colorado Avalance reached the top of the mountain, and Lord Stanley is coming back to Colorado, where it belongs!
It's been 21 long years, but the Avs' are back on top of the world as your 2022 Stanley Cup Champions! There were years you wondered if we'd ever get over the hump. Last year's elimination in round two by the Las Vegas Golden Knights lit a fire that could not be extinguished this season! Live it up, Avs Faithful, your faithfulness paid off and we're ready for our parade. Go Avs Go. Here's how it looked last time we won the Cup.
PHOTO FLASHBACK: Colorado Avalanche Win 2001 Stanley Cup Championship
The 2001 Stanley Cup Finals was a hard-fought series between the two top teams in the NHL. The series was extremely physical and would go 7 games - with the Avs having to win the final two games to win the title. Here is a look back at some great Colorado Avalanche history - and a closer look at that thrilling series.
Gonna need to add this Avs win to this list!
The Ten Best Moments in Denver, Colorado Professional Sports History
From the Denver Broncos to the Colorado Rockies, or the Denver Nuggets to the Colorado Avalanche, these are the Best Denver Sports Memories of the last 40 or so years.
More From Power 102.9 NoCo - KARS-FM